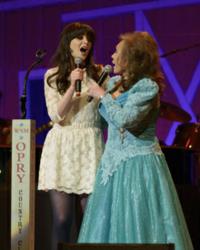 New York, NY (PRWEB) May 12, 2012
On May 11, TheaterMania reported that film and television star Zooey Deschanel will play country music legend Loretta Lynn in the stage musical, "Coal Miner's Daughter." The announcement was made from the stage of the historic Ryman Auditorium in Nashville on Thursday, May 10.
The Broadway-bound musical is being produced by Fox Theatricals and Scott Sanders Productions. No creative team, dates, or additional information has been announced.
As in the film of the same name, "Coal Miner's Daughter" will tell the life story of Lynn, from her impoverished Kentucky childhood to her rise to music stardom.
Deschanel is currently starring on the hit FOX sitcom "New Girl." Her many film credits include "500 Days of Summer," "Elf," and "Almost Famous."
For more up-to-the-minute theater news, show listings, video, features, reviews of Broadway Shows and tickets visit TheaterMania.com.
About TheaterMania.com, Inc.
TheaterMania.com is the information and ticketing source for over 5,000 shows nationwide. For over ten years, TheaterMania.com has connected the theater community to the public as the leading online resource for consumers to find shows, get tickets, and save money to theater nationwide. TheaterMania.com publishes comprehensive show listings, provides Broadway ticket discounts, editorial content, and video coverage for over 40 markets and widely distributes free email newsletters and special offers to over 675,000 registered subscribers. In addition, TheaterMania.com creates online marketing programs for performing arts organizations, and provides technology to power ticketing, fundraising, and CRM through its proprietary software, OvationTix.