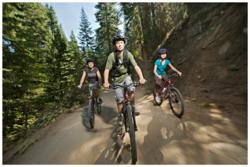 Fish Camp, Calif. (PRWEB) May 15, 2012
Thundering waterfalls, dazzling wildflowers, waxing daylight – prime time has arrived at Tenaya Lodge at Yosemite. Discovering your High Sierra happy place just got a lot easier.
Summer means more time to get outside and play, and Tenaya Lodge is the best base camp for exploring Yosemite National Park and the California Sierra region. There's an experience for every interest, from mountain biking and rock climbing to sightseeing, spa treatments, auto touring and more. And at Tenaya Lodge, kicking back at the resort is always included (and better than ever with an expanded new outdoor pool area featuring a zero-entry pool, kid's wading pool and poolside cabanas with a new outdoor eatery, the Bearfoot Bar and Café).
Summer '12 opens and closes with a pair of signature new Tenaya Lodge events: the inaugural Sierra Nevada Beer Fests, happening on Memorial Day and Labor Day weekends. Co-hosted with Sierra Nevada Brewing Co. (one of the nation's premier craft brewers), weekend events will be filled with mystery beer releases, food and beer restaurant pairings, cowboy cookout BBQ, pool BBQ, and live country music. Tenaya Lodge's Sierra Nevada Beer Fest Package is the best way to "tap" into the festivities, starting at $415/night for two nights and including two days of beer and culinary events, prizes and exclusive VIP logo merchandise for two adults.
Tenaya Lodge offers a pair of great packages that make it easy to explore Yosemite National Park. The popular Yosemite Park Pass Package includes accommodations and a seven-day park entrance pass, starting at $305/night. Tenaya's Northern California Family Vacation Package starts at $529/night, including accommodations and a full-day guided sightseeing tour that showcases Yosemite's greatest hits and hidden wonders while you kick back in comfort.
There are fun and freewheeling paved bike trails in Yosemite Valley, to be sure, but for off-trail mountain bike rides ranging from easy to exerting, Tenaya Lodge's surrounding Sierra National Forest has more than 30 miles of service trails right outside Tenaya's front door to take you higher. One popular Tenaya Lodge bike destination is the hidden Nelder Grove of Giant Sequoias. The best way to go is with Tenaya Lodge's Mountain Biking Package starting at $275/night including two bikes, helmets, two box lunches, and an exclusive, locals-only map of trails.
Rocks are big in Yosemite (see: El Capitan), and Tenaya Lodge's On the Rocks Package gets guests into a private, full-day guided rock climbing experience for two – and a voucher for celebratory cocktails (rocks optional) at Jackalope's Bar & Grill at the end of the day. The On the Rocks Package is available starting at $419/night, including a full-day guided excursion with local rock stars Southern Yosemite Mountain Guides for two.
By midsummer, rocks of another kind appear over the horizon: fast-moving, very hot rocks, also known as meteors! For thousands of years, the Perseid meteor shower has produced a dazzling summer sky show. Tenaya Lodge offers front-row seats to optimize this astronomical event with the Perseid Meteor Shower Package starting from $399/night. It's a two-night stay (peak Perseid nights are Aug. 11 to 13), transportation up to Yosemite Park's Glacier Point (elev. 7,214 ft.), astronomer guides, night sky map, a Tenaya Lodge logo blanket and more.
A recent addition to the Tenaya resort realm, Ascent Spa at Tenaya Lodge is a Silver LEED-certified destination spa that specializes in restorative and rejuvenating treatments including massage, wraps and scrubs. Season-themed spa packages pair signature Ascent treatments with Tenaya Lodge accommodations. Starting at $255/night, the Blueberry Soy Spring Spa Package features a detoxifying wrap that sculpts skin with Eminence Organics Blueberry Soy Sugar scrub and soufflé. The cellulite-fighting treatment stimulates circulation and cell metabolism. The Summer Glow Spa Package includes an hour-long body treatment designed to exfoliate, hydrate and protect your skin for summer fun, with deluxe or cottage accommodations starting at $385/night.
Many Yosemite-bound travelers speed past gorgeous Golden State scenery in their rush to get to Yosemite Valley's iconic lookouts. Gearing down will reward savvy travelers along Mariposa County's historic back roads, studded with historic attractions, wildflowers, wineries, art galleries and roadside attractions like Yosemite Ziplines and Sierra Meadows Golf Club. And, Tenaya Lodge can arrange for its guests to rent fully-restored Model T Fords for touring Yosemite's golden roads in style.
Tenaya Lodge's Timberlines newsletter has more details and illustrated information on all the Yosemite lodging packages featured above. To book or learn more about specials and packages, go to TenayaLodge.com/Specials or call toll-free, (888) 514-2167.
About Tenaya Lodge at Yosemite
Tenaya Lodge at Yosemite is an all-season resort framed by noble evergreen forest and a rich range of Sierra recreation. The lodge, set adjacent to Yosemite National Park's South Gate at an elevation of 5,288 feet, offers 297 rooms, suites and mountain cottage accommodations. Tenaya Lodge offers easy access to Yosemite's iconic attractions and many guests savor the alpine serenity of the new Ascent Spa at Tenaya Lodge. Resort dining options run the table from casual to candlelit at Sierra, Jackalope's, Timberloft and Embers restaurants. For more information, visit the newly redesigned website, http://www.TenayaLodge.com.
About Delaware North Companies Parks & Resorts
Delaware North Companies Parks & Resorts is an industry leader providing Stewardship and Hospitality in Special Places (SM), with hotel, retail, food service, recreation and transportation operations at historic and scenic properties in North America and Australia. The company operates Kennedy Space Center Visitor Complex and in Yellowstone, Grand Canyon, Sequoia and Yosemite national parks, including The Ahwahnee and other Yosemite lodges; Tenaya Lodge at Yosemite & the Cottages at Tenaya Lodge; Harrison Hot Springs Resort & Spa in British Columbia; Niagara Falls State Park; The Lodge at Geneva-on-the-Lake in Ohio; Gideon Putnam Resort in Saratoga; Holiday Inn West Yellowstone, Gray Wolf Inn & Suites and Yellowstone Park Hotel. The company also owns and operates five luxury resorts in Australia: Lizard Island Resort, Heron Island Resort, Wilson Island Resort, Kings Canyon Resort and El Questro Homestead and Wilderness Park To learn more about Delaware North Companies' hospitality management expertise, visit http://www.ExperienceDNC.com.