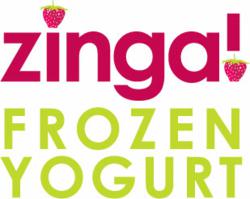 "We're excited to introduce Zinga's high quality frozen yogurt experience to Dallas.
Dallas, Texas (PRWEB) May 12, 2012
Zinga, the world's best frozen yogurt, offers twelve flavors of delicious frozen yogurt daily. This self-serve concept enables customers to mix and match any combination of these flavors with over 50 toppings including fresh fruits. Customers create the size dessert they want and then pay by the ounce.
With over forty flavors in rotation, from Pacific Coast Tart to Salted Caramel Pretzel, there is something for everyone. A no-sugar-added yogurt and a dairy-free sorbet are typically among the options. Most flavors are gluten free and all frozen yogurt flavors contain live, active cultures.
Joel Manguso and Frazier Spearman who grew up just a few miles from the store, are the Zinga area developers for the DFW area. "We are thrilled to bring Zinga to Dallas," says Manguso. "We immediately saw the growth potential in self-serve frozen yogurt. It's an exciting concept with both sophisticated and comfort flavors that's new to this region. We're confident it's going to be very well received and are excited to be part of the team."
John Fitchett, Zinga President, says, "We're excited to introduce Zinga's high quality frozen yogurt experience to Dallas. With Joel's proven track record operational excellence and Frazier's longtime community ties, they were clearly the right choice as our partner to introduce Zinga to Dallas."
At Zinga Frozen Yogurt, quality is a top priority and the toppings bar is no exception. Each topping is selected with the highest standards; such as fresh fruit that is hand-cut daily in-store. Every item offers a unique and delicious complement to the Zinga frozen yogurt flavors. In addition to frozen yogurt and toppings, Zinga uniquely offers fresh baked "bottoms" for your indulgence. The bottoms are baked in-store daily and include vanilla and gluten-free chocolate cake, waffle bowls, brownies and other seasonal selections.
Local fans who want up-to-the minute news and daily flavor information can find Zinga Frozen Yogurt at The Arbors on Facebook at http://www.facebook.com/zingathearbors
Zinga Frozen Yogurt is located at 18208 Preston Road #D-10 Dallas, TX 75252 Phone 972-596-1481. For additional information, contact Joel Manguso at 970-215-5377 or jmanguso(at)zingafroyo-qg(dot)com
About Quatro Group.
Frazier Spearman, general manager of Zinga Frozen Yogurt– The Arbors, was raised just a few miles from the store's location. He attended Hebron high school, and went on to Texas Tech University. Frazier has been committed to serving the community since his youth, eventually becoming an Eagle Scout at 14. In his time with the company, Frazier has assisted in opening other Zinga stores in Denver, Colorado. He recently relocated to open locations around Dallas. Frazier is excited to be in his home town getting to interact with the community once again through the opportunities store management provides.
About Zinga
Established in early 2011, Zinga! the "World's Best Frozen Yogurt", is growing quickly in the self-serve frozen yogurt industry. Franchise restaurant savvy leadership who seek franchise restaurant savvy operators has fueled the company's rapid growth. Zinga has area development agreements already signed for more than 221 shops in the US. John Fitchett recently joined Zinga Frozen Yogurt as the Company's President. John's restaurant industry career includes stints as an Area Director, a franchisee and Vice President of Development for large franchise restaurant chains. For more information about our company and franchise opportunities, visit http://www.zingafroyo.com or contact us at marketing(at)zingafroyo(dot)com.
###