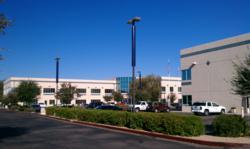 The Energy Warrior system is sleek, efficient and effective for any city looking to achieve valuable energy and cost savings.
Anaheim Hills, CA (PRWEB) May 16, 2012
Green Global LLC, an innovative solar and energy management street light company announced today that it has received seed funding from METRIX Capital Group, LLC, a private equity firm based out of Orange County, CA. The company will use the capital to prepare for its roll-out of its flagship Energy Warrior System to street lights throughout the southwest. Green Global has pilots operating in six municipalities in Arizona and California.
METRIX founder and managing director, Jeff Brannon, commented on the investment, "We are excited to partner with such a promising company and talented management team that has an incredible business model in place and a clear path to profitability."
Green Global LLC managing partner, Mike Hoffman, stated that "METRIX Capital Group brings the classic 'smart money' to this transaction. Not only are they helping to fund the company, they have been providing guidance and contacts that are already showing incredible promise. We are excited to be working with Jeff and his team."
With millions of street lights in the United States consuming megawatts of power each night and generating millions of tons of carbon, Green Global's Energy Warrior system both helps to save municipalities money, as well as help to reduce the carbon footprint of safety lighting. Beyond a typical solar solution, the Energy Warrior system is designed to use existing street light infrastructure to generate distributed power throughout the community with minimal aesthetic impact and infrastructure requirement. The light management system provides insights into the street light infrastructure that is sorely lacking in the current networks. Now, public works managers can view each street light individually on a map and know its exact condition in near real-time. Along with lumen management, in which lighting is raised or lowered according to a schedule or needs, the system can save the community both energy and maintenance efforts. To date, Green Global is the only provider of this integrated technology in the marketplace.
About Green Global
Green Global LLC is a Glendale, Arizona, based company that provides integrated solar and light management solutions for public and private lighting facilities such as street lights and parking lot lights.
About METRIX
METRIX Capital Group, LLC is a boutique private equity firm based in Anaheim Hills, CA. METRIX invests in early stage technology and cleantech companies as a part of its Venture Partner's program. The Venture Partners program provides a valued partner and unique opportunity for athletes and entrepreneurs to unite.