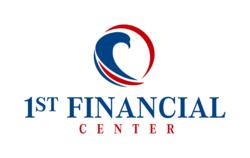 Our plan is to educate all consumers to become financially
fit
Sacramento, CA (PRWEB) May 14, 2012
1st Financial Center has leaped into the creative mix of video releases with the announcement of their first video press release titled 8 Brainy Ways to Spend a Tax Refund. "We are hoping to better help consumers by bringing our message to life," states 1st Financial Center's Chief Advisor. "This is a supreme way to bring new press content to the public."
A typical press release creates disconnect with the consumer by containing simple text and motionless pictures. With the release of 8 Brainy Ways to Spend a Tax Refund, 1st Financial Center is taking the debt relief industry by storm with new innovative strategies. "Our plan is to educate all consumers to become financially fit," states 1st Financial Center's Chief Advisor.
While putting print into motion may attract new consumers and broaden marketing horizons, the message is apparent. 1st Financial Center's mission is to educate and arm consumers with the resources need to explore their financial options allowing them to build financial strength. The introduction of 8 Brainy Ways to Spend a Tax Refund focuses on frivolous spending habits and provides knowledgeable options that an everyday consumer may have neglected to see.
To view 8 Brainy Ways to Spend a Tax Refund visit 1st Financial Center's website: http://1stfc.com/8-brainy-ways-to-spend-a-tax-refund
To receive more information on building financial strength contact 1st Financial Center at 888-755-4096, or find them online at http://www.1stfc.com.