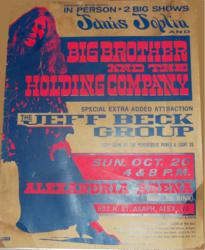 This poster was designed by the famous poster artist Dail W. Beeghly who uses Joplin's great smile to produce a classic boxing style concert poster.
Denver, Colorado (PRWEB) May 13, 2012
Andrew Hawley, from Vintage Rock Posters, announces his search for original Janis Joplin Roller Rink concert posters. The show was in Alexandria, Virginia on October 20, 1968. The boxing style poster was created by the famous poster artist Dail W. Beeghly. According to Hawley, "A year earlier at the Monterey International Pop Festival, Janis Joplin launched her career as a rock and roll star with a phenomenal performance. The crowd at the roller ring was in for a treat with Joplin accompanied by Big Brother and the Holding Company. Jeff Beck Group was the back up band behind Janis Joplin. By all accounts, Joplin put on a great show. Since the arena/roller rink had no seating, dancing was encouraged."
Hawley continues, "The poster measures 22 x 28 inches and was printed on thick cardboard by Creative Graphics. It features a stunning photo of Janis bathed in a vibrant mix of blue and magenta colors. Approximately, 200 of the posters were hung on telephone poles and in local establishments to advertise the show. What really makes this poster stand out is that Jeff Beck was the backup act to Janis Joplin. The 1960's poster artist Dail W. Beeghly designed this boxing style poster. Beeghly designed some of the more vibrant and graphically interesting concert posters in DC/Virginia area. He produced the 1968 Jimi Hendrix Experience Merriweather Post Pavillion concert poster held in Columbia, Maryland. He also designed the 1967 Doors Washington Hilton Hotel concert poster was held in Washington, D.C."
Hawley is willing to pay $3,000 cash for Janis Joplin Roller Rink boxing style concert posters or any other original 1967-1970 Joplin concert posters. Please call 310-346-1965 or email andrew (at) vintageconcertposterbuyer.com.