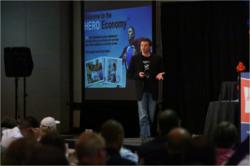 San Diego, CA (PRWEB) May 13, 2012
Nationally featured on CBS, The Boston Globe, and The San Francisco Chronicle, Michael Koenigs, Founder of Cross Channel Mojo, says, "This is the event of the year, where you can hang out with Mojo Business owners, experts, heroes and all-stars—who will share their secrets for using Cross Channel Mojo, Traffic Geyser, Instant Customer, video, social media and mobile marketing to dramatically increase your income while you help businesses or yourself grow by getting more customers every single day."
The days will be filled with content, fun and lots of networking opportunities. Cross Channel Mojo hand-picked every speaker, hero and panelist and in doing so they shared with them their desire to make this a "content-rich" event that will provide attendees with the best of what they have to offer. Some of the speakers include:
-Grant Cardone, author of "Sell or Be Sold- How to Get your Way in Business and In Life'
-Liz Goodgold, author of 'Red Fire Branding: Create a Hot Personal Brand and Have Customers for Life and DUH! Marketing'
-Oren Klaff, author of 'Pitch Anything: an Innovative Method for Presenting, Persuading, and Winning the Deal'
Koenigs states, "Our last event was a smash hit – with overall ratings at 9.5 out of 10 and that doesn't include people who rated the event 11-100! You'll leave this event armed with killer tools, tips and techniques that will help your business be even more successful immediately. Make sure you turn off as many distractions as possible, take notes, make new connections and most importantly, have a blast!"
Success begins with mindset and community and that's the true power of a live event. Cross Channel Mojo hopes to bring this experience to all in attendance.
The event details are as follows:
May 11-13, 2012
San Diego
Marriott Hotel Marquis in the San Diego Marina
333 West Harbor Drive, San Diego, California 92101
Cross Channel Mojo
619-456-0634
Michael Koenigs
http://crosschannelmojo.com/event/
"We Support Just Like My Child Foundation"
About Just Like My Child Foundation:
The Just Like My Child Foundation, is a not-for-profit organization. Our mission is to transform humanity by empowering women and children to reach their full potential through improved Health Care, Education and Microenterprise. In an approach we call deep development; we are empowering communities, village by village, to create their own long-term solutions in rural Uganda.
Our commitment to donors is to provide audio, video, and written documentation so that they can experience a first-hand account of how their donated funds are being allocated. The bottom line is that we want you to make a DIRECT connection with the people you are helping.
"We Support The H.O.M.E Foundation"
About The H.O.M.E. Foundation:
The Helping Others Means Everything, or The H.O.M.E. Foundation, is a not-for-profit organization dedicated to helping our Family of Charities. Frankie Verdugo, President of The HOME Foundation, wants to help as many worthy charities as possible as they struggle during these tough economic times. Frankie Verdugo helps raise funds through luxury dream home raffles, home giveaways, prizes, and high profile celebrity events in Hollywood... "Our mission is to help charities reach their fundraising goals and to bring awareness to their praiseworthy causes." Please visit our 2012 Dream Home Raffle Giveaway at: http://www.HOMEFoundationRaffle.com and http://www.facebook.com/HOMEFoundationRaffle.
###