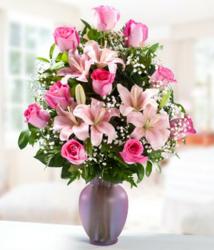 We're proud to be hitting 500,000 Facebook Likes at the daFlores.com page
DaFlores reaches half a million Facebook likes just in time for Mother's Day (PRWEB) May 12, 2012
Just in time for Mother's Day, international flower delivery company daFlores.com has reached 500,000 Likes on Facebook. The online florist has been in business since 2001 and has embraced social media from the start. As CEO and President of daFlores puts it, "Our company is committed to customer service, so we made sure we are wherever they are."
DaFlores.com uses its Facebook page to engage customers with contests, giveaways, feedback, and even an app for sending virtual flowers. And send them the readers do, by the thousands. When the company opened its page, it was called a fan page and readers were called fans. These days, the terminology has changed, to likes, subscribers, and just plain "pages," but the need for flowers and a place to talk about them has not changed.
"We're proud to be hitting 500,000 Facebook Likes at the daFlores.com page," says Mr. Bustos. "It's even more exciting to us to reach that milestone at one of our busiest holidays, Mother's Day. It's really a vindication of our efforts and shows clearly how important we feel our customers are. Their happiness is always the number one priority."
DaFlores set up its Mother's Day pages in early April and lists recommendations for sending to Mom this May 13. Pink is always the most popular color and daFlores urges customers to order early to avoid disappointment. The company will be highlighting Mother's Day events and stories on its English-language blog at flowers.daflores.com/blog/ as well as updating the Facebook page with Mother's Day offers and information.
About daFlores International Flower Delivery Company
DaFlores.com is part of Flores a Colombia, Inc., a United States corporation. The Miami, Florida-based company and its network of experienced florists are gearing up for Mother's Day on May 13, one of a flower delivery company's busiest holidays. DaFlores serves the Americas and is expanding its reach in Europe and Asia also.