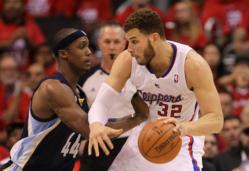 Los Angeles, Ca (PRWEB) May 11, 2012
Many viewed the Clippers as a team that would be eliminated in the first round of the playoffs, but with a 3-2 lead and home-court advantage heading into Game 6, they are on the cusp of progressing through to the semifinals and proving all the doubters wrong.
The Los Angeles Clippers are on the cusp of moving to the semi finals. Most fans would agree that they were surprised to see the Clippers make it this far into the series. Now one more win over the Memphis Grizzlies will take them one step closer to the finals.Top Los Angeles ticket seller Tickethunteronline.com are so thrilled by the success of the Clippers they're giving a 30% discount on Clippers tickets to all fans after a victory tonight.
Another win may be a tall order for the Clippers who's star players Chris Paul, Blake Griffin and Caron Butler. During this past Wednesday's loss to the Grizzlies Chris Paul strained his hip flexor and Blake Griffin sprained his knee in the third quarter that night as well. Despite injury, both Chris and Blake are playing in tonight's final game against Memphis.
The home court advantage to could be huge for the Los Angeles Clippers. Los Angeles Clippers tickets have been the hottest seats to have in LA. The sold out Staples Center is packed with die hard fans looking to cheer the Clippers into the semi finals. Clippers center number 6 DeAndre Jordan said. ''It gives us a lot of confidence going back home,'' ''We won our last two at home, so we'll just try to go home and feed off our home crowd.''
Game 6 is an imperative game for the Clippers who's are currently ahead in the series 3-2 to clinch the playoff tonight in the Staple Center.
Tickethunteronline.com announced they will reduce the remaining Clippers tickets down 30% upon a win tonight in Los Angeles. Fans can get them at tickethunteronline.com and use promo code "wicked".