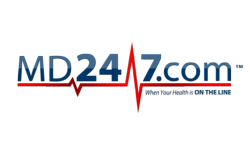 MD247 is now on social media!
Tampa Florida (PRWEB) May 12, 2012
MD247 announced on Friday that it would be hosting a relaunch of all of its supplementary telemedicine social media accounts, leading up to the official unveiling of its modified telemedicine website. Company Founder Thomas Meehan explained that the provider of quality of life enhancing telemedicine services relaunched its Facebook page on May 08, 2012, following it with the official relaunch of the MD247 Twitter account on May 10, 2012.
The MD247 Twitter account is tasked with providing men and women nationwide with tips to enhance life, but it is specifically designed NOT to provide any direct medical diagnosis. Members of the MD247 telemedicine program, as well as members of the general public, can locate MD247 on Twitter at http://www.twitter.com/md247dotcom.
For those looking for information they might be able to attain when they talk to a doctor, Meehan reminds that all MD247 social media accounts are intended to spark conversation and lead program members and non-members in discussion. Meehan advises anyone in need of immediate life-saving medical treatment to call 911.
Largo Florida based MD247.COM (MD247; MD/247; MD 247; M.D.247; MD-247) provides an affordable telemedicine supplement to existing healthcare services. MD247.COM telemedicine program members have unlimited telephone access to a nationwide medical support team, all with just a single phone call to the MD247.COM telemedicine Talk to a Doctor/Talk to a Nurse Hotline. MD247.COM has a virtual platoon of registered nurses; board certified physicians and a support staff available to members for all non-emergency situations. More information about MD247.COM is available online at http://www.md247.com.