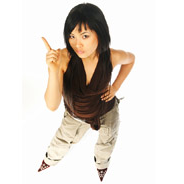 All models need to be aware of a job that seems too good to be true
London, UK 12th May 2012 (PRWEB UK) 12 May 2012
A model scam is doing the rounds and has knocked on the door of the partners of the UK's leading Model Agency Directory, earlier this week.
The latest modelling scam UKMA report, involves cold calling or messages via email. A bogus potential client or model agency will contact a model about a seemingly bone fide modelling job. This week the scam has hit very close to home.
'Our partners, La Mode London, have had one of their own models targeted by con artists this week,' explains Jim. 'Thankfully the team were able to help the model concerned and give out their advice to prevent her parting with any cash.' Jim goes on to explain that the scammers offer a modelling job which seems truthful and above board at the time. The model is grateful for work, flattered to have been sought out amongst thousands of others.' But unfortunately this is how the scam begins,' continues Jim.
'All models need to be aware of a job that seems too good to be true. If somebody offers you money before the modelling job has even been carried out, back away from it and contact the police.'
'Messages by email were sent directly to a client of La Mode's', explain UKMA. 'The email came through a website called 'Student job,' by someone under the name of Sarah Graham.' The model agency directory explains that different names will be used each time.
'The job this time was about this particular model's image being accepted by a company which didn't exist. She was told she had been chosen as one of a few models accepted for an electronic billboard advertisement in Gatwick airport. The model was assured a cheque would arrive from Spain, for a potential full figured sum.'
'Basically, these people are very convincing, usually offer a once in a lifetime opportunity and in the case of La Mode's client recently, she was advised to bank the cheque when it arrived, a sum of £3-£4000,' explains Stevie Lake, marketing manager for UKMA. 'She was instructed to keep 10% and then transfer the remaining 90% to a bank account in Spain, allegedly to pay for the photo shoot and the model agency fees.' Stevie continues,' by doing this, the model would have to supply the con artists with her bank details, thus giving them a way in to clear out her bank account.'
Luckily, this time the model made contact with La Mode and found out the modelling job did not come from them. She backed out of the transaction, but in doing so, the scammers then threatened to take legal action. 'It's very frightening to be threatened like that,' continues Stevie, 'but thankfully, in this case, the con artists were thwarted and the police were contacted.'
Scams are out there within both the modelling and acting industry, but thanks to companies like http://www.ukmodelagencies.co.uk advising models and contacting the police where necessary, they can use their online presence to thwart any scams if they can.
As soon as they hear about a scam, UK Model Agencies shout about it to the rest of the modelling community and would urge all models to spread the word between them.
'Scams can be controlled,' says UKMA, 'if we can all work together and keep each other safe.'
Visit http://www.ukmodelagencies.co.uk for all the latest information on model scams, model advice and the up-to-date modelling jobs as they happen.