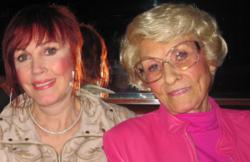 "Sally is great at what she does, but still a mother always knows best."
Scottsdale, Arizona (PRWEB) May 12, 2012
"It's by far my most nerve wracking procedure." Surprisingly, this is how Sally Hayes describes one aspect of her work. It's hard to believe a skilled and experienced permanent makeup professional that's performed tens of thousands of successful procedures over the course of a 25-year career could even make such a claim.
"One of the reasons I still love doing permanent makeup is because every procedure is unique, as is every person. But let's just say there's one client…" jokes Hayes, "who always provides a more unique experience for me than all others." This particular client is her mother.
At 85 years young, Audrey Hanson also has rich experience with permanent makeup. It dates back to the late 1980's. That's when the North Dakota native began having her daughter provide natural-looking enhancement of her facial features, her lips, eyebrows, and eyeliner. "Sally is great at what she does, but still a mother always knows best," laughs Hanson.
"I just want everything to be perfect for her," admits Hayes. "Not that I don't want the same for every client of mine. I do. But it's my Mom." The two really do enjoy a unique relationship, now living together again after the passing of their husbands. They're mother and daughter, but also like sisters and best friends, all wrapped up in one. "My Mom is my biggest fan," boasts Hayes. "I could be painting polka dot ceilings instead of doing permanent makeup, and she would be supportive. This means the world to me, especially now that I've expanded my business across the country into New York."
Mother also happens to be her daughter's most vocal client. "Yes, at times I've told her, "You know, you could be a little neater Sally," admits Hanson. "Or, you got a piece of makeup in my hair. But while I'm in her chair, I know Sally is in charge." Hayes adds, "She complains her permanent eyeliner lasts longer than her eyebrow tattoos, and I tell her that's the same for everyone. And of course my Mom wants dark eyebrows but I won't allow it. I specialize in undetectable permanent makeup designed to blend naturally with a person's skin tones. No exceptions, including my own mother!"
Hayes has had a lifetime filled with straight talking loved ones. Both of her parents were that way. So was her husband of 30 years. "Guy would always tell you the truth whether you wanted to hear it or not," she says. "But it was always respectful because he cared and felt you deserved it." This is the same way Hayes is known for handling clients, always sharing her expert opinions honestly whether someone is new to permanent makeup or a it's a woman who's vulnerable having been victimized by bad permanent makeup at the hands of an unskilled technician elsewhere.
"I'm proud of Sally for what she's accomplished in permanent makeup," says Hanson. "She's worked hard. But more importantly as I celebrate Mother's Day, I couldn't be more proud of who she is as a person and as a daughter."
"I care about the quality of service I provide, and I care about my clients as human beings," admits Hayes. "I blessed I have plenty of my Mom in me."
About Sally Hayes Permanent Makeup
Sally Hayes is recognized as the leading permanent makeup expert artist. She is referred and endorsed by many of the country's top cosmetic surgeons, and has performed tens of thousands of procedures as a full-time permanent makeup artist since 1988. Her popular website is viewed as the leading online authority on the subject of permanent makeup.
For more information, visit http://www.permanentmakeup.com.