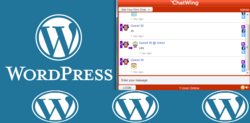 San Diego, CA (PRWEB) May 12, 2012
Many bloggers believe that Wordpress is the best free blog hosting site ever because of its high rate of functionality and widget space. There are also lots of users in Wordpress, which can be useful if a blogger is looking for a stable Internet presence. Chatwing's developers have understood the importance of Wordpress today. That is why they recently launched a chat widget that is helpful for many bloggers all over the world. In fact, the Chatwing widget is now on its second version.
Chatwing is created for the purpose of informative and entertaining website chat. It is also an active stream of communication for people within a single niche. For example, Chatwing can be used by bloggers who have online shops. In this way, the chat tool will become a part of the business owner's customer service section. Instead of waiting for comments, people can now post their questions, inquiries, and suggestions in real time. In return, the blogger can answer the questions easily.
Users of Chatwing's second version have noted that the chat box can be installed at a faster rate. The response of the chat widget application entails more speed. High customization is also one of the features offered by Chatwing. Through this, people can modify the widget's height, width, color, and title. Chatwing's developers highly recommend modification to fit the themes of blogs.
Chatwing also offers a speedy Facebook integration. Now, people can log in with their Facebook accounts and send out invitations easily. "Putting Facebook in our platform is not an easy thing to deal with, but we believe it is really useful. This applies well for Facebook bloggers who want to get reach their target audience well. Chatwing is like a professional solution and friend seeker rolled into one," Says Ivan Diamond, one of Chatwing's developers and researchers.
There are many chatrooms out there that offer the same service with Chatwing. However, it is evident that Chatwing pushes out blogging standards more. As a bonus, Wordpress bloggers can now tinker with Chatwing's array of avatars and emoticons.
About Chatwing.com
Chatwing.com has developed live chat software for websites and blogs. It caters to different online communities due to its high rate of connectivity. Everyone can create a customizable live free chat box feature in one minute or less. Users have the ability to customize the size, color, and fonts of the chat product. The ability to chat via social media accounts such as Facebook and Twitter enable Chatwing to offer a personal and unique real-time experience to all sites. Chatwing is 100% free and very easy to use.