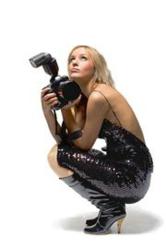 An era that changed the face of model fashion
London (PRWEB UK) 13 May 2012
'The Terrible Three' arrive at UK Model Agencies and the first celebrity fashion photographers are brought to life by the winning team at UKMA.
With features on fashion designers, supermodels and the latest model information, the UK's largest online model agency directory bring fashion photographers to the fore on their winning website, dedicated this week to the Swinging 60s.
'The 1960's was a culture of high fashion and celebrity chic and saw the birth of a new breed of fashion photographers, the three famous photographers who defined the era of 'Swinging London' superbly well in their pictures,' explains Helen Stark, fashion editor. 'They were known collectively as 'The Black Trinity', 'The Terrible Three', or 'The Black Trio', depending on who you spoke to at the time. The three men had a ball socialising with models, actresses and royalty and were very badly behaved from all accounts! '
An era that changed the face of model fashion, the 1960s is being deftly delved into by the researchers and writers at UKMA.
'This is my favourite section so far,' continues Helen.' It must have been an amazing time to be around, to be a teenager growing up with a very changing world in fashion'. She explains that her first pieces of writing about the era, centred on models at the time, which ultimately led her into the fashion photography department.
'David Bailey, Brian Duffy and Terence Donovan were geniuses at their craft, 'says Stevie Lake, marketing manager at UK Model Agencies. 'They managed to record for posterity the whole atmosphere of the swinging 60's, the attitude, youthful and spontaneous essence of the era.
With models such as Twiggy, Jean Shrimpton and Penelope Tree bursting onto the scene, the photographers worked hard and played hard around the new 'girl next door' models, the very first supermodels, so they say.' He continues,' I'm very proud of our new section. Primarily, we are a company who promotes all the great model agencies throughout the whole of the UK, but that is just half the service we like to provide to models everywhere. Our sections are constantly updated and added to, and a model can rest assured they are getting all the latest up-to-date modelling information at the click of the mouse, as well as news from the past which has undoubtedly shaped their future.'
'Our model fashion section has only just begun,' says Helen.' It's an ongoing project researching the 1960s and for me, it has been an absolute pleasure. It was the dawn of the waif like model, the models who set the trend for modelling years afterwards and it is amazing to think that an image created 50 years ago is still such a big influence on fashion and models at the present time.'
Visit http://www.ukmodelagencies.co.uk to see the model fashion in the 1960's section grow and grow.