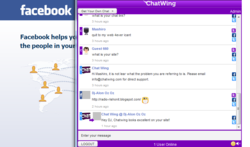 Seattle, WA (PRWEB) May 12, 2012
Facebook page making is now considered as one of the most common activities in the Internet today. It is evident that through these Facebook pages, people can get valuable information in just few clicks. Chatwing, a new and advanced chat box, has been launched lately to help Facebook page makers reach their target market. Chatwing's developers were keen enough to realize that social media marketing is one of the early steps of any business today.
Gathering likes for a Facebook page can be easy nowadays, as proven by many Facebook users recommending their pages to their friends. Likes do not guarantee long-term online presence, but it is a start. Since Chatwing chat widget excels in the premise of website chat, Facebook page makers can use this tool anytime. Chatwing can be installed to blogs, and the installation process doesn't take much time. Plus, Chatwing offers a high rate of customization for its users.
People who used the early version of Chatwing loved the Facebook integration feature. Now, Chatwing's users can log in with their Facebook accounts. This is another way to expand one's social horizon. Chatwing is also versatile enough to cover various types of topics, such as trends, blogging, current events, Hollywood, health, humor, and many more. This proves that Chatwing can be used for different communities. Some chatrooms have tried integrating Facebook or any social networking option at the cost of connection speed. This created a negative impact for their credibility.
Chatwing users have noted that the visibility of their blogs have increased by more than 80% in just a week prior to installation. The content of the blog, response of the blogger, and overall layout have also played vital roles for visibility increase in a free chat widget. Bloggers with featured products and services have also relied on the Chatwing shout box to expand their market reach.
About Chatwing.com
Chatwing.com has developed live chat widget for websites and blogs. It caters to different online communities due to its high rate of connectivity. Everyone can create a customizable live chat widget in one minute or less. Users have the ability to customize the size, color, and fonts of the chat product. The ability to chat via social media accounts such as Facebook and Twitter enable Chatwing to offer a personal and unique real-time experience to all sites. Chatwing is 100% free and very easy to use.