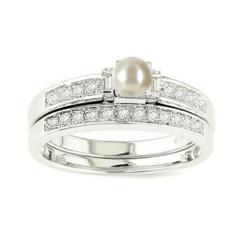 Pearl rings and Pearl engagement rings are now available on JewelOcean
Baltimore, MD (PRWEB) May 13, 2012
Pearl is also known as the gemstone from the sea. Pearl is probably one of the oldest gemstones used by men and women in jewelry. Pearl rings have been used extensively by women for over 2000 years. Pearl has been used to make almost all kinds of Jewelry, such as engagement rings, necklaces and earrings. In recent days, many celebrities have been spotted wearing pearl rings which has tremendously increased the demand for the same. Following such demand, JewelOcean is now proud to announce a whole new line of pearl rings made available in different gold types and at affordable and inexpensive prices.
Pearl is one of the most used gemstones in Jewelry. The beauty of pearl lies in its Round shape and white color. Throughout the history, pearl rings have been subject to various myths and mythology. Due to its white color, pearl is believed to provide purity and love to the heart of the women wearing pearl jewelry. As a result, pearl has always been very popular option in making engagement rings. The new affordable rings collection at JewelOcean has many designs of pearl engagement rings available for women. Women would also love to find that at JewelOcean , they can customize pearls and set in on their Rose gold engagement rings, an option which is not commonly available. Most of the pearl engagement rings available at JewelOcean, are currently on sale and as such women would them these wedding rings very affordable and inexpensive.
Besides, pearl engagement rings, JewelOcean has also introduced many designs keeping younger couple in mind. These pearl promise rings are beautifully designed and they can be used by customers as promise rings made in silver and with pearl.
One thing that customers would find common throughout the new pearl rings collection is the cheap prices of these wedding rings. JewelOcean specializes in providing discount engagement rings and this trend is very visible in the pearl rings collection, as many designs are available below $300.
JewelOcean specializes in making bridal sets and diamond rings which customers can customize to their individual preferences. Most of the diamond engagement rings can be customized with many different diamond shapes such as Pear shape diamonds, Oval diamonds, and Emerald cut diamonds. Now the customers would also be able to customize their engagement rings with pearl. For a complete view of the new collection available at discount price, please visit the company website.