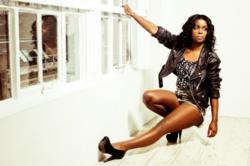 When I'm in front of the camera I feel unstoppable
London, UK (PRWEB UK) 14 May 2012
Representing modelling London, La Mode launch their newest model portfolio online and jettison another model career to the stars.
Helen Smith, director for http://www.lamodelondon.com proudly shows off the newest model on their books. With a stunning array of photographs showing Seeta in various outfits, Helen explains,
'With the current economic climate, UK modelling agencies aren't taking on many new faces and it's really quite tough for a new model starting out in the industry. Here at La Mode we are all about pushing the boundaries and helping models promote themselves with the help of their very own model portfolio and website.'
Their very latest modelling portfolio and website to be launched features several stunning photographs of Seeta, a slideshow and lots of valuable information about the model, including her vital statistics. The company explain how they also ask each model to provide some commentary on why they became model and how much previous experience they have in the industry, if any. They also ask about their interest and inspirations so a potential client can glean some idea of their personality.
'Naomi Campbell is very beautiful, she is the woman who represents the black beauty for me,' explains Seeta, when asked who her inspiration for taking up modelling was.
'I do not have any previous experience in the industry, however everyone has to start from somewhere and I feel I have learnt and gained life experience in order to help me begin.' Seeta is available for advertising and commercial modelling and is interested in working within the catalogue, fashion, editorial, exhibition and promotional modelling. Not shy of baring all, Seeta would also be interested in glamour and life modelling work if it became available.
When asked why she became a model, the 5'3" size 8 model explained,' I want to be a model because I feel like it's the only way that I can express myself. When I'm in front of the camera I feel unstoppable, I feel free. I feel so much happier in myself and I believe I can go far, I'm always taking pictures of myself.'
The confidence shines through in her photographs and is plain for all to see, and with interests in dancing, travel, music and cooking, this model is also a chef so knows how to eat healthily and look after her flawless skin.
The portfolio websites are professionally designed, each containing a homepage, a portfolio page and a contact page. Each site also comes with its own domain name included in the package, which sometimes is an added hidden extra with some companies say, La Mode, but not with them.
'We wish Seeta all the best luck in the world with her new career', says Helen.' She certainly has got the looks and style to make it and hopefully her new portfolio website will do the job.'
Visit http://www.lamodelondon.com for more information on the entire list of model websites launched daily by the model advice company.