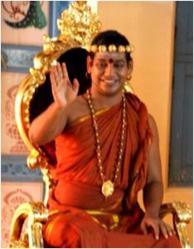 I wanted the whole world to know I have accepted the responsibility of Madurai Aadheenam to revive Vedic Tradition.
Los Angeles, California (PRWEB) May 12, 2012
Madurai Aadheenam, the world's most ancient living Hindu organization, will be hosting a 2-day live Worldwide Conference on Vedic tradition, history and science on May 13 & 14. The conference will reveal the historical, religious and mystical dimensions of the Vedic tradition in India. It will be jointly hosted by the 292nd and 293rd pontiffs of Madurai Aadheenam, Guru Maha Sannidhanam Srila Sri Arunagirinatha Sri Gnanasambanda Desika Paramacharya Swamigal and His Holiness Paramahamsa Nithyananda, who will speak on the history and philosophy of Madurai Aadheenam in the context of Vedic tradition.
The Aadheenam, which has a recorded history of over 1500 years, is also the source of philosophies like Shaiva Siddhanta and Vedanta, two of the richest heirs of Vedic tradition. The conference is set to be a landmark event for reviving global interest in the rich legacy of Vedic tradition.
All are welcome to participate live via 2-way video conferencing at Nithyananda Vedic Temples and centers OR on http://www.Nithyananda.tv
May 13 & May 14 - 8 hours starting at 8:00 AM Indian Time
May 12 & May 13 - 8 hours starting at 7:30 PM Pacific Time - USA
May 12 & May 13 - 8 hours starting at 10:30 PM Eastern Time - USA
About Madurai Aadheenam: The legendary Madurai Aadheenam has existed since time immemorial. It was revived around 1500 years ago by the young enlightened incarnation Tirugnana Sambandar, one of the four visionary saints of Shaiva Siddhanta philosophy. The Aadheenam is established in Madurai, one of the oldest cities of India with a history dating back to Tamil Sangam period in the 3rd century BC. The presiding deities of Madurai are Shiva and Devi in their incarnations as Sundareshwara and Meenakshi, enshrined in the world-famous Madurai Meenakshi-Sundareshwara temple.
His Holiness Paramahamsa Nithyananda has been recently coronated as the 293rd pontiff of Madurai Aadheenam. With a vision to establish Madurai Aadheenam as an authentic source of Vedic history and philosophy, Nithyananda has announced the launching of a Vedic University and Vedic Library in Madurai. To expand the current activities of the Aadheenam, he has also initiated social services such as setting up 100 schools in the district and a 300-bed charitable hospital.
About Nithyananda:
Paramahamsa Nithyananda is a global leader in yoga, meditation, kundalini awakening & enlightenment science. He is the 293rd pontiff of the world's most ancient Hindu organization, Madurai Aadheenam. Revered as a living avatar (divine incarnation) by millions worldwide, Nithyananda is the most-watched spiritual teacher on YouTube.com with more than14 million views. He is also the author of more than 300 books published in 27 languages. Nithyananda was recently named among the world's top 100 most spiritually influential personalities of 2012 by the reputed esoteric magazine 'Mind Body Spirit' from Watkins. Clear, dynamic and modern in approach, Nithyananda's teachings have already transformed 15 million followers in 150 countries.
Through cutting edge research in Yogic sciences using modern neuro psychology, medicine and quantum physics, Paramahamsa Nithyananda has offered potent Kriyas for more than 108 mental & physical disorders such as hypertension, cancer, diabetes, etc.
For More Details:
Life Bliss Foundation
909-625-1400
http://www.nithyananda.org/nithya-kriyas