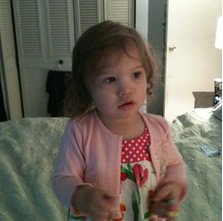 Let's get Audrey back home safely where she belongs
Columbia, MD (PRWEB) May 14, 2012
Security Central Exchange continues its public service mission to help parents enhance their child's safety by giving them the capability to protect, locate and track their children using GPS technology. Security Central Exchange's mission is to raise awareness of the problem and provide security products and assistance to help parents prevent, detect and respond to potential threats to their children. In the event a child does become missing, we help the parents try to safely recover the child using a variety of methods, including public service announcements, GPS Tracking solutions, and helping parents find a Private Investigator in their area, says Security Central Exchange, CEO, Mark Schober.
The most recent missing child case Security Central Exchange is trying to raise awareness about is the disappearance of 19 month old Audrey Reese. She was allegedly kidnapped from Columbia, MD on April 22, 2012 by Victoria Reese, her biological Mother. Victoria and Audrey were last seen in Peoria, Arizona on April 23, 2012. Judge Janice Crawford of Maricopa County Superior Court, case number FC2012-003939, issued a warrant ordering law enforcement officers to take Audrey into custody and return her to the biological Father Nicholas Planas, according to Audrey's Grandparents currently living in Columbia, Maryland.
Audrey is a 19 months old female, approximately 24 inches tall and weighs 25 pounds. She has grey-blue eyes, and curly dark blonde hair. Her biological mother, Victoria Reese is a white female 5 foot 3 inches tall, 20 years of age, weighs approximately 170 pounds with green-hazel eyes and brown-blonde wavy hair. Anyone seeing Audrey or Victoria should immediately report the missing child to their local law enforcement authority. Her Biological Father and Grandparents have made an emotional plea asking for help in locating and returning her home safely. Security Central Exchange, CEO says "Let's get Audrey back home safely where she belongs."