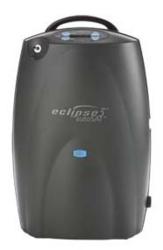 Never Before Offered at $2,395.00...But Only for a Limited Time.
Houston, Texas (PRWEB) May 14, 2012
Sleep Restfully, Inc. announced that there is only 15 days left to take advantage of their annual May Once a Year Portable Oxygen Concentrator Sale. Until May 31st portable oxygen concentrator customers will enjoy the lowest prices of the year. In addition, many portable oxygen concentrators have come down in price over the past 12 months making owning a portable oxygen concentrator more affordable than ever.
One example of the deals to be found is their offer of the SeQual Eclipse 3 Portable Oxygen Concentrator for only $2,395.00 with free delivery within the United States. Never before has the SeQual Eclipse 3 continuous flow/pulse dose portable concentrator been offered at this low of a price.
The SeQual Eclipse 3 Portable Oxygen Concentrator provides the most reliable continuous flow and pulse dose options in a 24/7 portable device. It is one device for both stationary and ambulatory oxygen needs.
The SeQual Eclipse 3 with autoSAT Technology is a Personal Ambulatory Oxygen System that is one simple and easy-to-use unit... with the SeQual Eclipse 3 you are no longer afraid of running out of oxygen.
Features and Benefits of the SeQual Eclipse 3 Portable Oxygen Concentrator include:

Continuous flow up to 3LPM and a pulse dose option - Continuous flow is the gold standard for nocturnal use
autoSAT Technology adjusts to your breath rate to ensure consistent bolus volume
AC/DC and power cartridge allows for travel around town or even around the world
Reduced power consumption means lower electrical costs
FAA Approved
Operates up to 13,123 feet in altitude for air or land excursions
Is compatible with many leading CPAP, APAP and bi-level devices in Continuous Flow Mode
The SeQual Eclipse 3 comes complete with a Power Cartridge, AC Power Suppy, DC Power Supply, Universal Cat with Telescoping handle, cannula, as well as, an informative Patient Pack.
Sleep Restfully, Inc. is a distributor for every major portable oxygen concentrator on the market today. Choose between the pulse dose Philips Respironics EverGo, Inogen G2, Oxus Reliability Plus, Invacare XPO2 or the continuous flow/pulse dose Philips Respironics SimnplyGo, SeQual Eclipse 3, O2 Concepts Oxlife Independence, Invacare Solo 2 and DeVilbiss iGo all at their lowest price of the year.
Portable Oxygen Concentrators allow the oxygen dependent person to continue with an active lifestyle. No longer will they be tethered to a stationary concentrator or heavy portable tank oxygen. All portable oxygen concentrators work on AC power, DC power or lithium ion batteries and are dual voltage. Now the oxygen dependent person can take that cruise they have missed or travel to see the most exotic spots in the world without worrying about not having the oxygen they depend upon. The FAA has approved the use of portable oxygen concentrators on board all domestically owned airlines. The world is now your playground.
Anyone interested in a portable oxygen concentrator should call Sleep Restfully toll free today at 866.923.2727 to inquire about special pricing available during the May Once a Year Portable Oxygen Concentrator sale. Portable oxygen concentrators will be around for years to come however, these LOW prices will only last until May 31st.
Sleep Restfully, Inc. prides itself on the high quality customer service it provides to Sleep Therapy and Oxygen customers. Their slogan, "We may not be able to match everyone's price but no one can match our service" is exemplified by their Better Business rating of "A". They carry a complete line of sleep therapy equipment and supplies by ResMed, Philips Respironics, Fisher & Paykel and other manufacturers. In addition to CPAP machines and CPAP supplies, Sleep Restfully is your portable oxygen concentrator specialist offering the best prices and support for portable oxygen concentrators such as the Respironics SimplyGo, Respironics EverGo, Sequal Eclipse 3, Inogen G2, Invacare XPO2, Drive Medical Oxus and more. They also sell stationary oxygen concentrators such as the Philips Respironics EverFlo and Invacare Perfecto.
In addition, Sleep Restfully stocks all replacement parts for the CPAP machines and CPAP mask as well as replacement parts for all portable oxygen concentrators.
Sleep Restfully, Inc. can be contacted toll free at (866) 923-2727, or by visiting their website sleeprestfully.com.