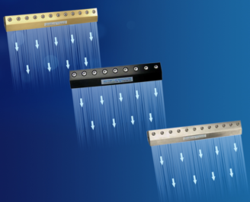 (PRWEB) May 14, 2012
The Nex Flow™ X-Stream™ Air Blade ™ Air Knife is already used extensively for replacing rows of nozzles or jets or drilled pipe to reduce energy. They are available in three versions: regular anodized for normal usage, hard anodized for mildly corrosive and abrasive applications and in stainless steel. For highly corrosive and high temperature environments. All Nex Flow™ X-Stream™ Air Blade ™ air knives come complete with a stainless steel shim to set the air gap (most competitors use cheap plastic which can wear out quickly) and are held together with stainless steel screws.
Available in 2", 3", 6", 9", 12", 18", 24", 30", 36", 42". 48"and 54" lengths as standard they can also be coupled together using a coupling kit for longer spans using a standard hard anodized coupling kit. For example you can couple together a hard anodized version of 30" length in between two regular anodized 24" versions for a total length of 84" with the center portion handling more corrosive or abrasive applications. Longer lengths you can assemble are unlimited.
The Nex Flow™ X-Stream™ Air Blade ™ Air Knife has proven to be of high quality, high performance and one of the most quiet, if not "the most quiet" designs on the market for all types of blow-off and cooling applications. Eliminating a row of drilled pipe can save up to 90% of compressed air costs.