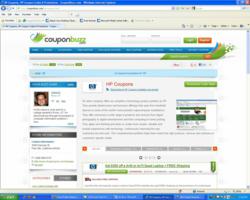 Weighing little more than a small book and just as thin as journal or 5-subject notebook, it is the ultimate in portability.
Houston, TX (PRWEB) May 14, 2012
Today CouponBuzz.com featured a new HP coupon for $150 dollars off standard retail pricing for the HP Folio 13t-1000 Notebook PC. This slim little laptop packs a lot of computing power, and is absolutely perfect for individuals who travel and/or commute with their laptop. The HP coupon for the Folio 13 Notebook is easily accessible on the web page dedicated to HP coupons and special offers that CouponBuzz.com launched this April.
"Workplaces are becoming increasingly more fluid as the capacity for virtual communication becomes universal. Made possible by the ever-increasing quality of virtual contact, whether through video conferencing, online chat, or digital voice mediums, individuals are spending less and less time in offices and more and more time on the go," explained Justin Bowen, one of the senior directors at CouponBuzz.com. "One of the reasons we chose to feature the HP coupon for $150 off the HP Folio 13 laptop is that, for these consumers, it is absolutely perfect. Weighing little more than a small book and just as thin as journal or 5-subject notebook, it is the ultimate in portability."
The HP Folio 13t-1000 Notebook PC comes standard with Windows 7 Home Premium, which can be upgraded to Windows 7 Professional for business users. Its 13.3 inch HD screen incorporates BrightView display technology, and the backlit, full-size keyboard enables users to continue working in every lighting environment. The HP Folio 13 comes standard with a 2nd generation IntelCore i5, the Intel HD Graphics 3000 card, and 4GB DDR3 of System Memory. Intel 802.11b/g/n WLAN and Bluetooth® with Wireless Display (WiDi) Technology give users a wide variety of connectivity options. Perhaps most valuable in today's rush and bustle, Intel Rapid Start Technology aids the 128G solid state hard drive to boot in just seconds, making the HP Folio 13 almost instantly ready to meet the demands of today's communication environment.
The HP Folio 13 laptop's incredibly small form factor, an astonishing 3.3 pounds and 18 millimeters thin, makes it barely noticeable in a bag or purse - until an individual needs to use its impressive computing power, that is. The brushed aluminum design is professional and discreet, and a soft-touch grip makes it simple to grab and go, and difficult to drop and fumble. In addition, built-in USB, HDMI and Ethernet ports eliminate the necessity for a multitude of cords connectors. HP CoolSense technology will automatically adjust the internal temperature of the HP Folio 13 based on usage and conditions, keeping the laptop's internal circuits happy and its user comfortable.
The incredible battery life of the HP Folio 13t-1000 Notebook PC is perhaps its best selling point. Clocking in at slightly over 9 hours, this compact little miracle-working machine can take an individual through their entire work day without ever being recharged. Or, for individuals who've ever had the experience of forgetting a laptop charger at home when leaving for business or vacation travel, the HP Folio 13 can function doing small, quick tasks and then waiting on standby for an entire week. The HP coupon for $150 off the HP Folio 13t-1000 can be accessed via the CouponBuzz.com HP coupons page at http://couponbuzz.com/hp-coupons.html.