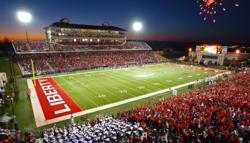 Lynchburg, Va. (PRWEB) May 12, 2012
Before a record crowd at Williams Stadium on Saturday for its 39th Commencement ceremony, Chancellor and President Jerry Falwell, Jr., announced Liberty University's intention to seek NCAA Division I Football Bowl Subdivision (FBS) conference affiliation for its 20-team athletics program.
During the last six months, Liberty University has worked with Carr Sports Consulting, LLC, to conduct an exhaustive analysis of its athletics and University programs.
The expansive FBS Feasibility study examined all facets of the University to see if Liberty University is capable of meeting the demands of competing at the highest level of NCAA Division I competition.
Falwell, along with Liberty University Director of Athletics Jeff Barber and Bill Carr will hold a press conference on Monday to further discuss the findings of the FBS Feasibility study.
The press conference, which will be open to both members of the media and the general public, will be held in the Club Pavilion of the Williams Stadium Tower at 1 p.m. (EST).
History of Liberty University Athletics
Later this month, Liberty University will complete its 24th year of competition at the Division I level after gaining full NCAA Division I status on Sept. 1, 1988.
Since that date, all but one of Liberty's athletics programs have competed at the highest level of Division I competition. Liberty's football program has competed at the Football Championship Subdivision (FCS) level since 1988 (formerly I-AA).
Liberty gained NCAA Division I conference affiliation with the Big South Conference for the start of the 1991-92 season. Liberty has been one of the most dominant programs in the league the past 20-plus years, capturing 110 conference titles during the last two decades.
Liberty has won the Big South Conference's "Sasser Cup" award nine times in the last 14 years, an award given annually to the most successful overall program in the league. Liberty has won the last four straight titles and is poised to become the league's first-ever winner of five consecutive titles once this year's spring sport championship season has concluded.
After competing as an FCS independent program for 14 years, Liberty found conference affiliation for its football program in 2002 with the Big South Conference when the league began to sponsor football as a championship sport. Liberty has won four out of the last five Big South football titles and has finished as a Top 25 ranked FCS program the last four years.
"Competing at the highest levels of collegiate competition has been the vision for Liberty University since its founding in 1971. It is exciting to watch the fulfillment of that dream taking shape as Liberty now has the financial resources, facilities, academic support and athletics professionals necessary to move forward," said Jerry Falwell, Jr., - Liberty University Chancellor and President.
"The announcement of our intentions to move to FBS football is a giant step toward realizing the University's goal of becoming a major institution. There has always been great commitment from our University to our NCAA Division I athletics programs and everything we have done has been with intent and purpose. Our University and athletics program have gone through tremendous transformation during the past five years and because of this, we are ready for FBS football," said Jeff Barber - Liberty University Director of Athletics.
"Liberty has made giant strides in every phase of their athletics program and especially in football. They are the best prepared for FBS advancement of all universities for whom we have conducted similar studies over the past 21 years. We believe that their exemplary level of funding for athletics, the strength of their football coaching staff and the exceptional quality of their support facilities demonstrate the university's unquestioned commitment to excellence. Liberty is definitely on the move," Bill Carr, Principal of Carr Sports Consulting, LLC.
Liberty University, located in Lynchburg, Va., is the world's largest Christian university. Nearly 100,000 students attend classes on its 6,800-acre residential campus and study in its thriving online education program.