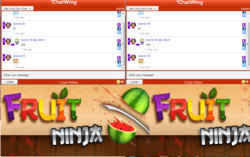 Cambridge, MA (PRWEB) May 12, 2012
Fruit Ninja, the fruit-slashing Iphone and Facebook App, is now a trending discussion in various Chatwing chatrooms. Fans of the application are now exchanging tips and hints that can improve everyone's game play. Adding to that, these players are competing for online leaderboard scores. Chatwing's developers are always keeping in touch with these fans in order to provide an efficient communication service.
Chatwing's main goal is to provide an efficient chat widget and clear stream of communication for people all around the world. Its developers believe that this can be achieved by proper implementation of website chat. This is a strong reason why large percentage of Fruit Ninja fans has chosen the widget to communicate with others. Chatwing also gives people the chance to log in with their Facebook accounts. Aside from exchange of tips, people can now send out Facebook invitations to each other.
Since Chatwing is a widget, it can also be installed to most blogs and websites. To do this, the user must undergo domain registration and account creation. Following that, customization takes place. The user can edit the appearance of the shout box. Height and width can be adjusted by dragging sliders, while colors can be matched to create perfect hues. The chat box can also be renamed. Casual game bloggers, especially those who write about Fruit Ninja, have used the chat application to drive traffic to their blog. With that, they observed moderate spikes of visibility in just a week.
Easy installation is also one of the strong features of Chatwing. Bloggers can install it within seconds, and they can also customize the widget. Any color or hue is possible and the title can also be changed. After registration and installation, the user can now retrieve the HTML code and embed it to a blog or website's custom design panel.
About Chatwing.com
Chat Wing is a free chat box for all web pages and blogs. It also lets anyone create free chatrooms on any website or blog. The Chatwing.com website offers users the ability to signup and create a customizable live chat box instantly with few details. Users can create chatrooms and have the ability to select the size, dimensions, and colors of the shout box. The ability to live chat with Facebook, Twitter or guest avatars is a unique feature which also includes social sharing features in real-time. This free chat widget can be embedded in seconds with a few lines of html code. Chatwing is free chatroom software available to any user.