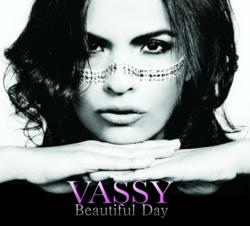 True talent can win
Los Angeles, CA (PRWEB) May 13, 2012
You probably know her soulful and exotic voice from shows like "Grey's Anatomy" or "Human Target," films like "When in Rome" or "Cabin in the Woods," or even from recent commercials by Victoria's Secret or Chevy. That's if it isn't from games like the "Sims" or webformercials from Dr. Pepper.
Vassy, whose Greek-Australian background lends to her unique voice, is as talented penning strong lyrics as she is embodying the message they contain. Her songs, despite their commercial appeal, are the stuff classics are made of. Positive and uplifting, they jolt the listener to a happier place.
But Vassy has a beautiful story also. She was born in a remote area of Australia to Greek immigrants, fell in love with Billie Holiday at a age young, and moved to the United States to pursue her dream of becoming a musician.
"She was my pure inspiration," she says of Billie Holiday. "I heard this voice on a community radio station and was like 'who is that?' She evoked emotion with in me, something that resonated so strongly with me, and I became passionate about her and American culture."
But it was a lot of hard work. Along the way, that young woman, with nothing more than her Billie Holiday inspiration, would have to making it in her country, struggling to convince everyone that she had what it took, before she would come to America.
"I knew deep down I had something special," says Vassy, recalling how she felt after rejections were thrown at her.
Despite growing up in an immigrant family where traditional education was valued, and had to make pacts to first finish her degree in Interior Architecture, which she did with honors, Vassy knew music was her future. She credits Billie Holiday and the women in her family as being the force behind her move to America.
"She's the reason I'm here today," Vassy says of Billie Holiday. "She was a strong woman with many vulnerabilities. I have been surrounded by strong women in my entire life. I have an incredible mum, and my grandmother, my mum's mum, is our soldier; she was a young widow and raised two girls on her own in poverty back in Greece. Women have always been strong leaders in my family and I strive to teach other young ladies that too."
Vassy volunteers at a safe home for teenage girls in Los Angeles, teaching music. She motivates them and inspires them to believe in themselves. She often uses her life as an example, telling them that true talent can win.
"I am a living proof of that," she says. "I had no one to help me. No rich daddy, not using my body to get anywhere. I did it all on my talent, and believing in myself and my spirit."
Vassy's album Beautiful Day is available from iTunes, Amazon, and other major retailers.
For more information:
Anna Papandonakis
+ 1 310 907 8350
vassybookings(at)gmail(dot)com