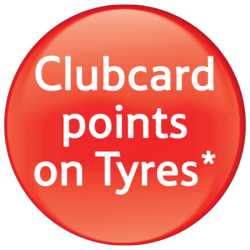 What people are telling us is that not only is price important to them, but they also want extra, and relevant, added value. That's what we can now deliver with Tesco Clubcard points
Edinburgh (PRWEB UK) 14 May 2012
Customers at Blackcircles.com, the UK's leading online tyre retailer, can now earn Tesco Clubcard points when purchasing tyres.
In an exclusive partnership aimed at further enhancing their customers' shopping experience, from 14th May, motorists will be able to earn Tesco Clubcard points when purchasing tyres — from top brands such as Bridgestone, Continental, Kumho, Michelin and many more — on the Blackcircles.com website.
The new move follows on from the successful joint partnership, Tesco Tyres, which the two companies launched at the beginning of 2011.
The incentive is in line with the overall strategy of Blackcircles.com which aims to continually add value for motorists with its low price retail strategy and high levels of customer service: in 2011, 98% of customers rated their experience with Blackcircles.com as "Good" or "Great".
By presenting Blackcircles.com visitors with the opportunity to earn Clubcard points, the online tyre retailer believes both new and returning customers will welcome the fact that points earned through tyre purchases can contribute to reducing their fuel, shopping and other everyday costs.
At the same time, they will benefit from some of the best prices in the tyre industry – potential savings of up to 40% when compared with the high street fast-fit prices.
Of the 16 million households collecting Tesco Clubcard points, it is estimated that over 75% of card holders own, or lease, at least one vehicle.
With so many motorists actively collecting points, Blackcircles.com plans to work closely with Tesco to effectively communicate this new and innovative offering to the ever-increasing number of Clubcard holders in the UK.
With an all-encompassing marketing strategy, Blackcircles.com is set to fully support and build awareness of this new scheme. In conjunction with the Clubcard package, Blackcircles.com is launching a new ad campaign on Sky TV featuring the voice of Murray Walker – the unmistakable voice of Formula 1.
"Our goal is to move quick and often to develop Blackcircles.com offers as we strive to meet the needs of the tyre-buying public," Mike Welch, founder and Managing Director of Blackcircles.com, said.
"What people are telling us is that not only is price important to them, but they also want extra, and relevant, added value. That's what we can now deliver with Tesco Clubcard points."
The steps involved in buying tyres with Blackcircles.com are designed to be as stress-free and as informative as possible. After entering a tyre's size, customers are presented with a list of available tyres.
Once tyres are selected, customers are given the option to pick a fitting centre from the 1300-strong garage network – the largest network of independent garages in the UK.
With their garage chosen, customers choose a date and time which is convenient for them to have their car's tyres fitted.
Then all the customer has to do is pay for the order, via the secure online payment forms, and enter their Tesco Clubcard number to ensure allocation of their points.
The whole process is quick, simple and secure — and completely takes the hassle out of buying new tyres.
"Without a doubt, customers are shopping more shrewdly and are not simply going to their local fast-fit as they may have done previously," Mike Welch continued.
"Being an online-based retailer, we are in the right place to attract prospective customers looking for value, and I see this exclusive Tesco Clubcard deal as further justification for those prospective customers to make the switch and become Blackcircles.com customers. There is even more to come this year."
-ENDS –
For further information please contact:
James Harding
T: 01721 725 762 E: pr(at)blackcircles(dot)com
NOTES TO EDITORS

Launched in 2001, Blackcircles.com is a leading UK online tyre retailer with emphasis on competitive price points and value.
With headquarters in the Scottish borders town of Peebles, Blackcircles.com has grown through strategic ventures and partnerships with independently owned garages across the UK.
The Managing Director of Blackcircles.com is Mike Welch, former Head of e-Commerce at Kwik Fit. The Chairman of Blackcircles.com is Graeme Bissett, former Group Finance Director of Kwik Fit.
Blackcircles.com sells a comprehensive range of tyres for cars, vans and motorbikes, including high performance and 4x4 tyres available from all major brands including Michelin, Goodyear, Dunlop, Continental, Bridgestone, Toyo and Yokohama.
The company has a UK network of over 1300 fitting outlets from Thurso in Scotland to Truro in England, and sells to around 600,000 customers with a 98% satisfaction rating and 30% business referral rate every month.
Over 220 of the independent garages are now part of the Premier Garage Scheme. This Premier network allows Blackcircles.com to further align itself with the expertise of local independent garages and bring more of the fitting centres into the Premier network.
Tesco Clubcard points can now be earned when purchasing from the following tyre manufacturers on the Blackcircles.com website:
o Bridgestone
o Continental
o Dunlop
o Falken
o Goodyear
o Hankook
o Kumho
o Michelin
o Rockstone
o Yokohama