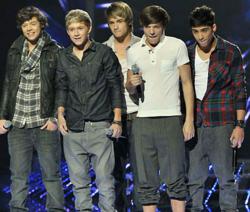 Tickethunteronline.com still has huge inventory and has issued a 30% discount promotion with promo code "Wicked".
Los Angeles, CA (PRWEB) May 12, 2012
One Directioners across the country will be swooning to see the pop sensation live over the next few months. The British boyband (one Irish member) consisting of members Niall Horan, Zayn Malik, Liam Payne, Harry Styles and Louis Tomlinson will be kicking off their North American tour on May 22nd. One Direction tickets are sold out almost everywhere. Tickethunteronline.com still has huge inventory and has issued a 30% discount promotion with promo code "Wicked".
One Directions debut album Up All Night launched in November, 2011 and has already made the boys a mega success. The band is one more notch in Simon Cowell's belt of pop music creations, after all, they were formed on the 7th series of Simon Cowell's X-Factor and after taking 3rd place in the competition signed to his label. The band signed with Columbia Records here in the US in November as well.
The 'What Makes You Beautiful' hit makers have quickly won the hearts of tweens across America and are already working hard on their second album. The band reportedly have traveled to Stockholm, Sweden to get started on the follow up to Up All Night. This is the same location One Direction recorded a few of their hits on the first album.
Band member Niall Horan tweeted: ''great day soo far in the studio!! Got some crackin tunes on the way!.. its been a while since we've been in the studio.. great t be back (sic).
One Direction's romantic lyrics charm females of all ages. Band member Niall Horan remains modest and is very appreciative of his fans.
"Our fans are simply the best in the world," Niall Horan said. "The support they have shown us has been incredible, and we're all so grateful to each and every one of them. We can't wait to see everyone this summer at Madison Square Garden and, of course, when we play our world tour in 2013."
Ticket Hunter Online CEO Michael Quinones has announced a promotional discount for the tour this summer.
"We have had so much demand for One Direction from our customers. We expect them to sell out faster then originally projected." stated Michael Quinones.
Tickethunteronline.com has launched a 30% discount promo code "wicked". You can redeem the promo code at check out by going to tickethunteronline.com and searching One Direction tickets.