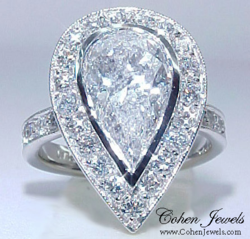 Hollywood, CA (PRWEB) May 14, 2012
With over 15 years of experience in the entertainment business, Anthony G. Cohen J.D., CEO of Bridgegate Films, has created risk-free financing for film production. Mr. Cohen's primary focus has been generating funds in order to finance various studios and production houses. Along with Cohen Jewels, a family business that was established back in 1873, Anthony G. Cohen has combined his expertise and connections in a way that will allow investors to participate in the film business, risk free.
"One of the biggest problems studios typically face when securing financing for a project is hesitation from the investor," Anthony explains. "It is only natural to be concerned about the security and return on your investment."
Mr. Cohen has developed a solution to this obstacle through supplying his family's diamonds as collateral to secure the investment. "This approach not only builds trust between myself and the financier, but it also deepens our relationship by demonstrating that I am experienced, prepared, confident, and backed by the right team. These are essential elements that you need to be a great producer and retain longevity in this town," states Anthony.
This risk-free method has enabled Mr. Cohen to finance any project within the 3 million to 20 million dollar range, and allows investors the freedom of security to relegate their money wisely without concern of loss.
Mr. Cohen's objective is to consistently produce high quality, profitable films in which the audience and his investors can enjoy for years to come. Mr. Cohen welcomes any investor that is interested in discussing this new creative investment method in his Beverly Hills Office by appointment.
Kristin Berry
Bridgegate Films
(310) 734-7177
BGFCastings(at)gmail(dot)com
http://www.BridgegateFilms.com
# # #