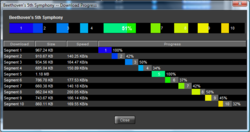 WARNING: This new multi-connection technology may give other Internet software download envy.
San Francisco, CA (PRWEB) May 14, 2012
Question: How does the new YouTube download technology work and why is it so much faster? Can you tell users what's the secret to its speed?
Answer: Rather than just using one download connection to download a video, use ten.
YouTubeFreeDownloader.com opens (TEN) separate download connections/workers that are each assigned to a different part of the video to download. So each of the ten workers download a different part of the video at the same time.
This takes advantage of YouTube's initial speed burst that YouTube sends out at the beginning of the watch request. This results in download speeds ten times faster, in excess of 5MB/sec. Ten download threads will most likely max out most users broadband pipes. In some tests, with excellent broadband, testers have actually exceeded 10 megabytes per second with full videos being downloaded in less than five seconds.
The technical name for the multi-connection streaming technology is known as pseudo video streaming. Pseudo video streaming is where a video player makes a watch request to start a video streaming from a specified section of a video. To learn more about pseudo video streaming please visit:
http://www.longtailvideo.com/support/jw-player/jw-player-for-flash-v5/12534/video-delivery-http-pseudo-streaming
YouTube Free Downloader is more than just a fast downloader; it also allows users to download 1080p and 720p HD videos and allows users to convert them to other file formats, such as: MP4, MP3, M4A, AIFF, FLAC, WAV, WMA, WMV, MOV, MPEG, M4V, FLV, AVI, Plus iPad, iPhone, PSP, files, etc.
YouTube Free Downloader is a totally free video ripping application to common video formats and MP3. YouTube Free Downloader will help you download videos, extract lossless audio, convert online videos to MP4, MP3, M4A, AIFF, FLAC, WAV, WMA, WMV, MOV, MPEG, M4V, FLV, AVI, Plus iPad, iPhone, PSP, etc. With YouTube Free Downloader, is all users need to do is paste a video link, choose the quality, and press "Download." The freeware allows running several downloads simultaneously and at the highest speed possible due to the multithreading technology.
The software is absolutely free, without any feature or time limitations.
This free software works on Windows XP, Vista, and Windows 7.
If you would like to test out a free copy please visit our website. >> http://youtubefreedownloader.com/