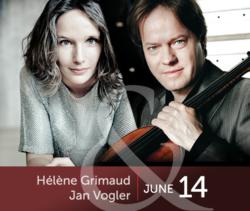 For me, wolf conservation is really about a healthy ecosystem, and that's a worldwide concern. It's universal. Just like music. - Hélène Grimaud
South Salem, NY (PRWEB) May 23, 2012
Webcast registration: http://nywolf.org/webcast
Her adventurous approach to the classics has seen her compared to Glenn Gould. Offstage, she has famously studied and raised wolves. Now Hélène Grimaud's most passionate and intimate performance will be LIVESTREAMED for the benefit of these beautiful animals.
Grimaud will take center-stage, for the Wolf Conservation Center, June 14, 2012 with cellist Jan Vogler at Bedford, N.Y.'s luxurious Bedford Post, owned by actor and environmental activist Richard Gere. The recital will begin at 7:15pm EDT with an appearance by Atka the wolf, WCC's popular ambassador, who has a celebrity status of his own.
Only about 100 people will have the privilege to see Grimaud, one of the music world's most unforgettable performers in person, alongside her friend and fellow headliner Vogler, at the recital and a "meet-the-artists" dinner following the performance at 8:30pm.
But wolf advocates and worldwide devotees of Grimaud and Vogler will have access via live webcast to the evening's exclusive recital – featuring selections from Schumann, Brahms, Debussy and Shostakovich. Enthusiasts everywhere can sign up in advance to enjoy the webcast and be a part of this not-to-be-missed event.
"My two passions are music and conservation - specifically wolf conservation," says Grimaud. "For me, wolf conservation is really about a healthy ecosystem, and that's a worldwide concern. It's universal. Just like music. Music is a universal language, it's not confined to one region, one way of understanding. That's why it is so important to me that we reach out and make this concert, and the opportunity to help, accessible to people around the world."
All proceeds from the recital and live webcast will go directly to the Wolf Conservation Center in South Salem, NY. Founded by Grimaud over a decade ago, the WCC is committed to conservation, education and species survival.
Minimum donation to register for the Live Webcast is $25 (fully tax deductible) and may be made exclusively on the Wolf Center website – http://nywolf.org/webcast
About Hélène Grimaud
A multi-faceted and charismatic artist, pianist Hélène Grimaud has a limitless passion for music. Hélène regularly appears with the world's most important orchestras and has performed with three generations of conductors, including Kurt Masur, Bernard Haitink, Esa-Pekka Salonen, Neeme Järvi, Pierre Boulez, Ricardo Chailly, Valery Gergiev, Vladimir Jurowski, Fabio Luisi and Andris Nelsons. She was soloist at the Last Night of the BBC Proms 2008. An ardent chamber musician, Hélène Grimaud performs regularly in the most prestigious festivals and cultural capitals with a wide range of collaborators including Thomas Quasthoff, Rolando Villazòn, Jan Vogler, Truls Mørk, Clemens Hagen and the Capuçon brothers. This summer she appears at leading European festivals including Beethovenfest Bonn and the London Proms. Official website: http://www.helenegrimaud.com
About Jan Vogler
Recognized for his "rapturously heartfelt" playing (Washington Post) Jan Vogler has featured with many renowned orchestras including the New York Philharmonic, the Chicago, Boston, Pittsburgh, Montreal and Cincinnati Symphony Orchestras, the Dresden Staatskapelle,, the Bavarian Radio Orchestra, and the Vienna Symphony. A passionate recitalist and chamber musician, he performs regularly with pianists Hélène Grimaud and Martin Stadfeld and with violinist Mira Wang. Official website: http://www.janvogler.com
About Wolf Conservation Center
Established in 1999 by world-renowned French pianist Hélène Grimaud the Wolf Conservation Center's founding mission was to teach the public about the crucial role wolves play in a healthy, sustainable environment. In 2004, the WCC joined the national Species Survival Plan (SSP) program – expanding its mission beyond education to actual conservation. The WCC currently has four breeding SSP pairs on premises – more than any other SSP facility. On May 6, 2012, a litter of pups were born to one of the endangered Mexican gray wolf couples. There are only approximately 400 Mexican gray wolves in the world and only about 300 red wolves, so maintaining numbers in the wild and captivity is crucial. The three other pairs are also expected to produce young in the coming weeks. http://nywolf.org/