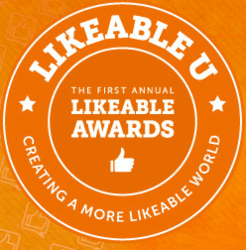 I'm honored that the likeable community has recognized my enthusiasm and dedication to the start-up world.
Boston, MA (PRWEB) May 16, 2012
May 15, 2012 - Today, Spencer Bramson, the twenty-two year old founder of the startup marketing agency inflencers@, was awarded the distinguished title 'Most Likeable Entrepreneur of 2012' at the LikeableU Class of 2012: Beyond the Buzz conference in New York. The Likeable Awards recognize industry leaders across the world, who have leveraged social media to demonstrate charisma, responsiveness, transparency and authenticity in their professional lives. Bramson was selected from a pool of six distinguished finalists, including Mark Cuban, who emerged from thousands of nominations in the Entrepreneurship category. The young entrepreneur has been recognized for introducing cutting edge ideas in the marketing industry and for proving himself through successful business ventures.
Bramson is a Bentley University dropout who worked on several startups companies prior to founding the marketing agency influencers@. The influence marketing agency hits the streets and interwebs to help brands and solutions become the most talked about, wanted, and shared among the 18 to 24 year old demographic. influencers@ delivers influence marketing to clients by way of word-of-mouth, product sampling, experimental events, brand ambassador programs, event promotion & staffing and promotional tours, representing companies such as CampusLIVE, Qdoba, Mr. Youth, SUMOskinny and PXT Money. His agency currently employs over 20 interns and is growing rapidly with the release of their newest product ChatterMob publicly releasing this fall.
Bramson previously won the Future Forward 2011 Game Changing Startup award this past November. He believes that the best entrepreneurial work originates from passion, claiming, "There's a lot of hard work that goes into being a successful entrepreneur, especially in the Marketing industry. I'm honored to be a part of the entrepreneurship and Likable community." The 'Most Likeable Entrepreneurship Award' comes at a pivotal time as Bramson has recently expanded the company's executive team, recruiting fellow prominent young entrepreneur, Greg Skloot as Chief Operating Officer.
About influencers@
influencers@ is an influence marketing agency that hits the streets and interwebs to help brands and solutions become the most talked about, wanted, and shared among the 18 to 24 year old demographic. Success stories include influence marketing campaigns for Qdoba, CampusLIVE, CollegeFest, Jebbit, Mr. Youth and PXT Money.
About Likeable Media 2012 Awards
Likeable Media is an award-winning social media leveraging and word of mouth marketing firm with 200+ clients with offices in three cities. The agency hosts the inaugural "Likeable awards" to recognize the most likeable people in the world. From March 28 to April 24, the Likeable community submitted thousands of nominations for titles in 17 categories. These categories include: Most Likeable Chief Executive Officer, Chief Marketing Officer, Entrepreneur, Photographer, Journalist, Food Blogger, Mom Blogger, Video Blogger, Author, Doctor, Marketing Thought Leader, Professor/Teacher, Lawyer, Student, Fashion Designer, Chef and Politician.
For more information about the 2012 Likeable awards visit http://likeableawards.com/