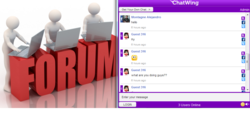 Columbus, OH (PRWEB) May 13, 2012
Online forums are considered as sectors where people can share their opinions and sentiments about certain topics. Everyday, there are many forum topics being created, based on the activity of forum sites all over the Internet. Chatwing, a free and advanced chat widget, is finally launched to help online forum makers gain the true leverage they need. This leverage comes in the form of efficient communication in chatrooms.
Forum visitors can benefit a lot from Chatwing because it is all about the premise of website chat. Through this free chat widget, people can now post their messages in real time. As a bonus, Chatwing users can now opt to log in with their Facebook accounts. This eases up personal information exchange and can widen up a person's social network horizon. Bloggers can also use Chatwing through a very simple embedding process.
To embed Chatwing, the user must register his website's domain name. Chatwing also offers adequate customization wherein the user can change the height, width, and color of the widget. This is useful for bloggers who are just starting out in the industry. Additionally, the title of the widget can also be edited. Chatwing's developers have noted that highly-customized widgets have large tendencies to be noticed.
When it comes to forums, admins can now reach their visitors by posting a simple message or update. This message will then be noticed by the visitors. If they like the message, they will keep visiting the forum, raising its online presence significantly. Early users of the chat box have even recommended Chatwing in their blogs and websites.
Forums that are dealing with service, product responses, and marketing, the Chatwing shout box serves as a customer service section. Now, people can post their inquiries in real time and the admins can answer right away. This quick response will truly liven up the name of the forum.
About Chatwing.com
Chat Wing is a free chat box for all web pages and blogs. It also lets anyone create free chatrooms on any website or blog. The Chatwing.com website offers users the ability to signup and create a customizable live chat box instantly with few details. Users can create chatrooms and have the ability to select the size, dimensions, and colors of the shout box. The ability to live chat with Facebook, Twitter or guest avatars is a unique feature which also includes social sharing features in real-time. This free chat widget can be embedded in seconds with a few lines of html code. Chatwing provides free chatrooms available to any user.