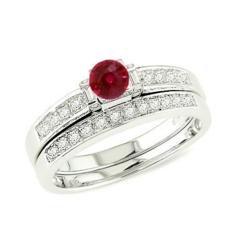 Ruby rings have always been extremely popular with women. Good quality Ruby is considered more expensive than diamond due to high demand of Ruby engagement rings.
Baltimore, MD (PRWEB) May 14, 2012
Ruby is one of the oldest gemstones used by men and women. The red color of Ruby has always inspired awe, admiration, beauty and other countless such emotions. Good quality Ruby gemstones are even more valuable than diamonds in today's market. There is no surprise then that many celebrities in the recent times have been spotted wearing Ruby rings and other Ruby jewelry. Ruby rings have always been very popular with women and men alike. JewelOcean has now launched an exclusive sale's collection of Ruby rings, where customers can find these wedding rings at cheap prices. The collection goes on sale from 14tH May.
The Red color of Ruby has inspired numerous stories. Ruby has attributed as gemstone of life, as the Red color matches that of blood. It has also been attributed as gemstone of war. Whatever myths and legends have surrounded Ruby through the past centuries, Ruby rings have always been very popular with women and men alike. Kings have shown their power with Ruby rings, and princesses have shown their beauty with the same. Ruby is one of the more expensive gemstone types, as it is more valuable than most of the other gemstones. However, the new JewelOcean Ruby Rings collection is designed to make Ruby rings affordable and provide customers with most value for money.
The new collection of Ruby Rings at JewelOcean has something for everyone. Customers would find a slew of beautiful designs of Ruby engagement rings, which sport beautiful Ruby gemstones in the center, which are often flanked by white diamonds, which seem to compliment the Red color of Ruby perfectly. These Ruby engagement rings can be customized by the customers in various gold types such as white gold engagement rings, yellow gold engagement rings and even Rose gold engagement rings.
Customers who are only looking for Ruby diamond rings would find a beautiful collection of Ruby cocktail rings made with diamonds and gold. These Ruby diamond rings go on sale from only $199 onward. As such, JewelOcean makes it very easy for customers to their wedding rings at cheap prices. Since the collection is just launched, many of the designs are available at sale prices. However these sale prices would last for a limited time only.
The collection has not ignored men either. They can find exclusive designs of Ruby rings for men, which are made on Gold and with diamond. These exclusive designs of Men Ruby rings are available in limited quantities only.
JewelOcean is a leading online wedding rings retailer. The company has always been in the forefront by providing customers with exclusive designs and styles. The new Ruby rings collection is no exception. These diamond rings made with Ruby gemstones are already garnering a lot of attention and admiration from customers all over. For a complete view of the new Ruby gemstone collection, please visit the engagement rings section on the JewelOcean website.