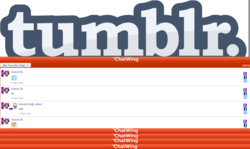 San Francisco, CA (PRWEB) May 13, 2012
Tumblr is one of the hottest free-hosting blogs of today, based on the number of users that actually registered for it. This blog site is more focused on microblogging, wherein information travels fast daily similar to chatrooms. Tumblr has also appealed to the younger generation. This comprehensive and easy-to-use blog site is now compatible with an advanced chat box known as Chatwing. This chat tool is gaining ground in the blogosphere as a 'communication elite' and it is generating many sign-ups per day.
If Tumblr is all about graphical microblogging and outright emotional experience, Chatwing is all about efficient communication. Ever since its first release, it has been helping a lot of blogs generate the online presence they truly need from a chat widget. This is useful for bloggers who are just starting out, considering the milestones they have to take before they can finally get to the top. "Tumblr and Chatwing seem to go hand in hand. Both of them are highly functional, light to the eyes, and very easy to use. Well, they are also integrated with Facebook. As for Chatwing, our goal is really to improve the way people experience global chatting. Information is really important in this age," Says Michael Diamond, one of Chatwing's brilliant developers.
Since Chatwing is integrated with Facebook, users can now log in using their Facebook accounts. Now, users will have the opportunity to expand their social horizons to a certain degree. This shout box is also stable enough to withstand Facebook's varying bandwidth. Many Tumblr users are also installing Chatwing for their blogs. This has been noted during the release of Chatwing's second version.
In the new version of Chatwing, there is a filter for indecent words and people can now user more emoticons and avatar displays. This improves the way people experience website chat. Chatwing is still a free chat widget and it will remain that way for a long period of time.
About Chatwing.com
Chat Wing is a free chat box for all web pages and blogs. It also lets anyone create free chatrooms on any website or blog. The Chatwing.com website offers users the ability to signup and create a customizable live chat box instantly with few details. Users can create chatrooms and have the ability to select the size, dimensions, and colors of the shout box. The ability to live chat with Facebook, Twitter or guest avatars is a unique feature which also includes social sharing features in real-time. This free chat widget can be embedded in seconds with a few lines of html code. Chatwing is free chatroom software available to any user.