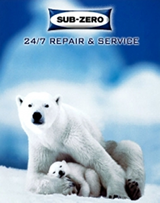 (PRWEB) May 15, 2012
Sub-zero repair service announces the addition of factory authorized Traulson repair technicians. Traulson makes some of the best high-end appliances in the industry, and now Sub-zero Repair Service has factory trained technicians to serve customers who use Traulson appliances. Traulsen has long been known as the premier name in refrigeration for the foodservice market. That reputation is grounded in a long history of delivering products designed and built to the highest possible standards of performance, quality and durability in the industry—standards for innovation and value set by our founder, Harry Traulsen.
Traulsen began Traulsen & Company in Queens, New York, in 1938 as a producer of bakery fixtures, with a small product line that included refrigerated showcases. Commercial refrigeration soon became the primary focus of the small company.
When the company returned to the commercial refrigeration business after the war, Traulsen set down the design and manufacturing standards that we follow to this day: Build the highest quality products in the industry. Use the most rugged, metal materials. Build to stringent, self-imposed specifications. Develop advanced refrigeration technologies. And bring customers the long-term savings and value that comes from a long, efficient product life.
Then and now, Traulsen value comes from understanding just how rough the environments are in which our products work, and how much our customers use and depend on our products. That's why rugged, all metal construction is at the heart of all of Traulsen's products, with hinges, seals and handles built to withstand constant use, all day, every day, year after year. It's why we've developed so many advanced refrigeration technologies, providing unequalled innovations in airflow, cooling defrosting, energy efficiency and ergonomics. Yet with every innovation, we find new ways to make our equipment easier and simpler to operate.
To celebrate the Addition of Traulson Factory trained technicians Sub-Zero repair Service is offing the lowest prices ever on service. Vivit out website at http://whttp://www.subzerorepairservice.biz