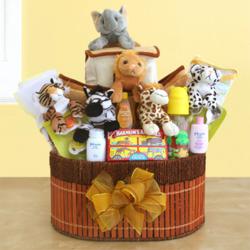 Delivering Happiness in a box since 1998
(PRWEB) May 24, 2012
Great items to put in baby gift baskets are anything bath related. Include items such as rubber duckies, shampoo, baby soap and terry cloth baby wash cloth sets. There are many baby bath products available on the market so make sure to get a good variety. Plush animals are fun and exciting baby gifts and be sure not to just limit it to teddy bears. Be creative when selecting the animals; monkeys, zebras, ducks and puppies in various sizes are a cute addition to the basket. New parents are always looking for ways to preserve memories to pass on to their child when they get older. Handprint and foot print kits, first hair cut keepsake box, first tooth keepsake box and plant a tree kits are just some of the precious memory items that you can include.
Prefer to leave it to the professionals? GiftBasketsPlus.com offers a stunning array of baby gift baskets and baskets for every occasion, theme and holiday. New parents would be delighted to receive the adorable Cuddly Animal Zoo Gift Basket with items like 6 cuddly plush animals, bib, t-shirt and bubble bath. The Welcome Home New Baby Gift Basket , has items like a Baby boy elephant designed photo album, Johnson & Johnson Take Along Pack, Silver plated first curl container and a plush zoo animal hand rattle. Send your heart felt congratulations to the new parents with any one of the amazing baby gift baskets offered by GiftBasketsPlus.com.
GiftBasketsPlus.com has been delivering the finest gift baskets since 1998. In addition to baby gift baskets, GiftBasketPlus.com also offers gourmet baskets, birthday gifts, organic gift baskets, kosher baskets, spa gifts, corporate baskets, thank you gift baskets, romantic gift baskets and even gift baskets for pets.