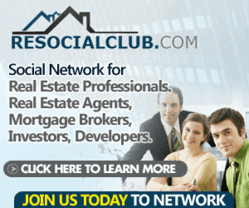 Connect with Real Estate professionals today!
Los Angeles, CA (PRWEB) May 14, 2012
Opportunity of Reaping Professional Benefits through Social Networking between Investors, Real Estate Agents, Mortgage Lenders and Developers
May 12, 2012 – The famous social networking website exclusively conceptualized and designed for real estate professionals, RESocialClub.com has recently upgraded its website and has turned it into an advertising platform for real estate professionals which can be used for free. The design of the website has also been changed to give advantage to the real estate professionals, enabling them to draw good attention from potential clients. The site requires registration and allows the registered members to post images and videos related to a property.
This website was designed specifically for the real estate industry. Other social networking mediums such as Facebook and Twitter do not cater to the needs of real estate professionals exclusively and now real estate professionals can boast of having a social network dedicated to serve their industry segment only. The good news is that you can now advertise your property for sale, rent, or any other property related listings for free. RESocialClub.com gives you a system that allows you to network within the real estate industry much easier. This helps prospective clients to browse through countless property listings.
RESocialClub.com is the only social networking medium for real estate professionals, which provides a platform for connection between investors, real estate agents, mortgage lenders and developers. Regardless of the level of experience as a real estate professional, there are always ways to improve operational efficiency. The website offers blogging and forum posting features along with a variety of tools and utilities. Members can get immediate access to home and property listings, as well as network with other agents. With the recent launch of the free advertising platform, RESocialClub.com has become more popular amongst real estate professionals who are all excited about reaping the benefits of the new aspect introduced by the site. The advertisements are optimized on other social networks and which gain huge attention from prospective clients. The site thus can be used as a connecting medium. All of this is for free.
RESocialClub.com excels to provide benefits in areas where other real estate media outlets are lacking. The website now comes with a new design and upgraded features. With the real estate industry growing by leaps and bounds, all the information posted each day, both by members and administrators involve the current state of market, future prospects, property listings, and other useful tools that can help experienced professionals stay in sync with growing trends and also help the new entrants who are willing to make a future in the real estate industry, to quickly learn through the process. Visit http://www.resocialclub.com/ to gain benefits of free advertising for your property.
About RESocialClub.com
RESocialClub.com is the first social media platform, designed exclusively for real estate professionals. A registered real estate member can host their profile and start networking with other members and agents via online chat. Members can view each other's profiles and update them. They can utilize the blog and forum features to post their queries which are then answered by experienced real estate professionals. This helps in increasing communication and knowledge between all members. The website is maintained by experienced web developers who ensure constant improvement in features fro the benefit of members from the real estate industry. Now, the website can also used to advertise for properties by posting photos and videos of the property.
For more details, you may log on to http://www.resocialclub.com/.