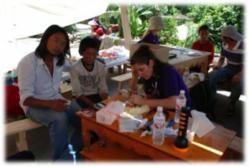 Boulder, Colorado (PRWEB) May 15, 2012
Medical Care International (MCI), "a nonprofit organization that coordinates volunteer medical missions to needy communities worldwide," traveled to the Tibetan Plateau with the Tibetan-run "volun-tourism" organization Conscious Journeys. They assessed the health and sanitation conditions in rural villages and provided basic medical care with a focus on education and prevention of common ailments. MCI also brought medical supplies for the villages.
Doctors and nurses kicked off their trip by visiting the largest hospital in the county. They were also taken to visit a local primary school where the students greeted them with smiles and kata (traditional white scarves given to honored guests). They were given a tour of the community by one of the local village leaders, who briefed them on common issues regarding sanitation, garbage and human waste disposal, the villagers' daily diets and diseases and ailments common to the area.
A two-day temporary clinic was set up in a local monastery, where they treated elderly and sick patients first. Two nurses checked blood pressure and recorded case histories while three doctors diagnosed patients and wrote prescriptions (high blood pressure seemed to be one of the area's biggest health concerns). Village leaders were given booklets on basic sanitation and healthy diet, to help them continue to educate the villagers about proper healthcare after the team's departure.
Doctors then visited a monastic school where they were greeted by children wearing Tibetan clothing donated by MCI. They set up a temporary clinic at the school and began treating students and other local patients. Over a hundred students and villagers were diagnosed and treated. The students prepared momos (Tibetan dumplings) and performed a traditional Tibetan dance performance in honor of their MCI guests.
In addition to providing medical care to rural villagers and students, medical volunteers also had the opportunity to visit regional sites including temples and monasteries, Paoma Mountain, the Museum of Thangka, and the Panda Breeding Center in Chengdu.
Conscious Journeys is the volun-tourism program of the NGO Tibetan Village Project. Tours focus on providing services to local communities, practicing sustainable travel, supporting local businesses and connecting in a positive and meaningful way with Tibetan communities across the plateau.