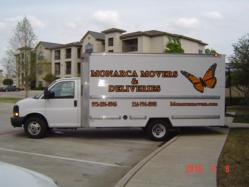 they are the only company that I trust to handle my furniture while I am working in the DFW area".
-Elida Avila
Dallas, TX (PRWEB) May 15, 2012
The expansion of this Dallas moving company's services was a response to the customers' demands. Even though these Dallas movers began by focusing on their area, they are now actively participating with many neighboring cities like San Antonio, Houston, and Austin. "As a local moving company, our reputation is very important to us, so we want to share our professionalism with those that have not yet experienced it" stated Audiel Estrada, spokesperson of Monarca Movers. Customers that enjoy the assistance of these Dallas movers can now utilize their services farther away from the Dallas area. This Dallas moving company is a fully equipped business that manages residential, commercial and storage relocations that are adjusted to the customer's ever changing needs. "Although Monarca Movers does not offer storage services yet, it may be the next step the company takes in expanding its prospects" stated Audiel Estrada, company spokesperson, and Sales Manager of the Dallas office. Customers seeking movers in San Antonio, Austin, and Houston can inquire about the services, or people moving out the Dallas area can also have the business move them out to these far reaching cities.
"We are very excited to be expanding our services since we can now give our customers a wider sphere of relocation options" said Audiel Estrada, a company spokesperson. "There were many times when a customer became attached to the company's great workmanship, so we decided to make it easier for them by broadening our business". A constant customer, Elida Avila, stated "I am ecstatic that Monarca Movers in now able to provide their services in the city of San Antonio since they are the only company that I trust to handle my furniture while I am working in the DFW area". "Although we do require an earlier reservation from our customers if they are moving from some of our farther cities, we are glad to adjust to any of their needs since their satisfaction is our priority" said Ana Estrada, a company employee.
The great dependability of this Dallas moving company offers the consumer a stress free relocation experience. "We feel a need to make sure the customer is satisfied with the Dallas moving services they receive" states Ana Estrada, a company employee. "When dealing with something as burdensome as moving, you need to be reassured and guided through each step by your Dallas movers". "Packing, unpacking, loading, and unloading services are offered to all our customers, along with relocating tips that can help them prepare for their Dallas moving company's arrival". "As a growing Dallas moving company, we are delighted to be able to reach many more customers who really just need a group of amazing Dallas movers at their side" said the company spokesperson, Audiel Estrada.
Individuals that would like to learn more about this Dallas moving company's expanded service are can gather information on their website at monarcamovers.com.
About Monarca Movers
Monarca Movers, a thriving Dallas moving company, provides customers with the services they require. They specialize in local moving, packing, and loading, plus many other services that can be seen on their website.