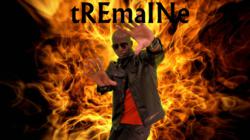 "This song has a great heavy techno beat. It's catchy but also dark at the same time. I enjoyed the melody as it has a lot of movement, so the song is never boring. The lyrics are also clever and fun. I recommend this to fans of LMFAO of 3Oh!3" - SoundOut
St. Louis, MO (PRWEB) May 14, 2012
EliteROCK Records recording artist Tremaine to release a five-song EP in 2012. The Portsmouth, Va. musician likens his music to the works of recording artists Usher, Jason Derulo, Taio Cruz and Trey Songz.
Energetic, colorful, erotic and a little playful are all words to describe Tremaine's sound.
In early 2000, Tremaine started writing solo material after the R&B group he was performing with broke up. The new creative freedom found him recording demos and eventually playing out in the Hampton Roads club scene, primarily at the Virginia Beach oceanfront night club Peabody's. Through the years he became a fixture in its music scene, and has taken the stage at city-sponsored events like the annual Chesapeake Jubilee and as part of the talent promoted by Beach events performing on its 17th Street Stage.
"On stage I have the swagger of a soul singer mixed with the attitude of a rock star," the electronic pop artist said.
Tremaine released a nine-song self-titled CD in 2009 and was quoted in a Virginian-Pilot newspaper story as saying, "I thrive on people singing and dancing to my songs." To view the article, visit http://www.hamptonroads.com/2010/11/portsmouth-pop-artist-tremaine-back-ready-impress.
The five-song EP which was recorded at Soul Haven Studios in Virginia Beach, Va. has been produced by Eric Hungry and will have an individual song release format. To advance the EP's first single "Shake Your Body," a Hungry-produced music video is also being released May 15, 2012.
"This video will make the ladies want to dance and the guys want to get up on them while they dance. It really does make you want to break out a party and let loose," Tremaine said.
"Shake Your Body" will be available for download on May 15 at your favorite sites online including iTunes, Amazon, eMusic, Spotify and much more.