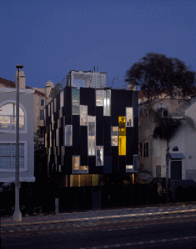 The Vertical Modernistic Venice Home is one block from Venice Beach find it on bobzio.com.
Venice, California (PRWEB) May 16, 2012
The Venice Vertical House is an architect-built and owned home. First floor has guest room #2, large and spacious with a queen bed and European bathroom (shower, sink, toilet). Second floor has the master bedroom with California King Bed and en-suite bathroom. Next to the Master is Guest Room #1 with a queen bed and European bathroom. The third level has the living room and kitchen/dining area. The top floor (roof) is a roof deck with four loungers for sunning and very cool enclosed glass area for reading or hanging out.
Each bedroom and the living room have cable television & high-speed wireless internet. Towels and linens are provided. The home is one block from the Venice Beach Boardwalk and the beach. Please visit http://www.mainstreetsm.com to see the street behind the home. Shopping, restaurants, galleries and star sitings. Bike rental available a block away. View more photos and rental rates on bobzio.com under Venice California.
Bobzio.com is a co-op of vacation rental owners, home exchanges and area services. Bobzio.com announces free lifetime listings for owners of vacation rentals. A comparable website with thousands of listings will charge up to a $1000 for such perks and listing benefits as bobzio.com offers for no cost.
Each owner will get unlimited photos, video upload, interactive reservation calender, Google map and email contact form. Bobzio.com is only several months old but is growing fast. More users are discovering the advantages of searching for rentals based on activities such as golf, theme parks, scuba diving and any activity imaginable including surfing.
http://www.Bobzio.com being a co-op is owned by the members. The ownership role will be determined when the first 20,000 have joined. There will not be a better time to get in on an opportunity like this that could save up to $1000 each year in subscription costs. The website also offers training on techniques to increase internet marketing exposure for individual listings and tips to get photos and videos to show up in some of the major internet search engines. Jump on board. The sooner the better. To see an example of a free listing visit http://www.bobzio.com/view_property_details.php?title=Cape-San-Blas-Vacation-Rental-Bayrock-2-on-http://www.Bobzio.com--6080-Cape-San-Blas-Rd,-Port-St-Joe,-Florida-&pro_id=25.
Bayrock a Cape San Blas Vacation Rental has a special going on now under Special Offers. Book a week in May for $1100. This is a $400 discount. Visit bobzio.com to see all the details and video under the Special Offer section.
Bobzio.com has created several strategic partnerships to assist with marketing and management of Vacation Retnals. One is DirectPlacement.co for help with Search Engine Placement (SEP). Visit DirectPlacement.co and ask about search engine placement (SEP) for the bobzio.com vacation property listing or home exchange. Adam, the owner, is very knowledgeable about SEP and personable in his approach. There are no long term commitments or contracts to try DirectPlacement.co services.
The second strategic partnership is with Alan Lane, owner of DepositGuard.com. DepositGuard.com makes it possible for the individual owner to accept credit card payments and bank transfer checks. The fees are minimal and paid by the renter. The renter gains the security of an escrow agent safeguarding their rental deposits. A second option is using Dwolla.com. They offer accounts that do electronic payments using the internet and Cell Phones. There service costs 25 cents a transaction. Both DepositGuard.com and Dwolla.com will be common names in the future but now they are getting started just like Bobzio.com.
Here is a link to a YouTube video showing how easy it is to start a listing: http://youtu.be/qOwKNH0c7Gg