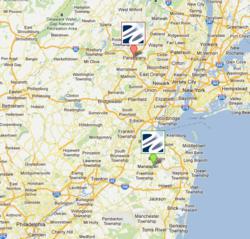 We are excited to be able to have our attorneys and law offices in locations closer to our clients all around the state of New Jersey
Feehold, NJ (PRWEB) May 15, 2012
Weinberger Law Group, a New Jersey divorce and family law firm, celebrates the opening of their Monmouth County office in Freehold. This will be in addition to their current Parsippany headquarter offices which currently covers the northern New Jersey areas. The newest law offices will eliminate travel time for those clients in central and southern areas of the state.
With their continuous efforts to provide their clients with the best family and matrimonial legal services, having offices in multiple locations will be more convenient in helping to serve their client base. "We are excited to be able to have our attorneys and law offices in locations closer to our clients. We know that being able to meet with your attorney easily and face-to-face can make some of these times easier to deal with," says Bari Weinberger, the founding partner of Weinberger Law Group.
The new office opened its doors for business on Monday, May 7, 2012. The office is located at 4400 Highway 9 (Route 9) South, Suite 1000, Freehold, NJ 07728.
With the addition of the new facility, Weinberger Law Group will also be expanding its family to welcome new attorneys to the firm, with the first being Robyn N. Howlett. She will be dedicated to serving the best interests of her clients in all matters related to divorce, child custody, child support, alimony and the division of assets, dissolution of domestic partnerships, civil unions, domestic violence matters and all other family law matters. All of Weinberger Law Group attorneys are highly experienced in divorce and family law in New Jersey.
Bari also stated, "We would like everyone to know that we will continue to offer you a free initial consultation for any family or divorce related matter at either of our office locations."
For more information about Weinberger Law Group, the new office or to arrange an appointment, contact the firm using their toll-free number, (888) 888-0919, or either of the local telephone numbers, in Freehold, you can call (732) 252-0000, in Parsippany, (973) 520-8822 or visit the website at http://www.WeinbergerLawGroup.com