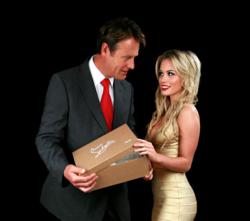 We have even had some interest from a 'Sugar Daddy' to purchase a £5,000 breast enlargement for a lady on the site, someone he has never even met but has established a virtual connection with.
(PRWEB UK) 14 May 2012
Glamour girls Nicki Howarth and Holly Henderson have recently been speaking out about how their conquests with Sugar Daddies have enabled them to pursue their exquisite lifestyles, reportedly girls can earn thousands from a monthly allowance. To see a snapshot of this, a reality TV programme "Sex, Lies and Rinsing Guys" starring Henderson, will be shown this week. The TV programme claims to explore the world of mutual relationships, where girls can receive 'gifts' from men just by using their looks and charm. But how realistic is this? Can any woman obtain this lifestyle?
Online dating continues to be a successful platform to meet new people; there are various dating websites out there specifically aimed at meeting a 'Sugar Daddy' (an affluent, older male) or a 'Sugar Babe' (glamorous younger female) so people could be closer than they think to this lifestyle. But what is the benefit of these dating websites. Are they all the same?"
Sugardaddieworld.com (SDW) claims to be a new type of dating site, tapping into the modern demands of online dating, where simply checking out someone's profile and sending a wink is no longer enough. SDW claims to help users make a connection with someone and pick up some 'gifts' along the way, potentially one of them being a boob job, and all this can happen even without meeting in person.
CEO and Founder of SDW Jane says, "People have become bored with silly cyber poking and winking, nowadays men need a better way to show a woman they admire that they are interested in them. E-dating had lost its shine and the ability for people to stand out has become increasingly difficult. sugardaddieworld.com has changed that."
Jane continues, "As an example, instead of sending a wink or a poke, SDW gives the 'Daddy' the ability to send a pretty girl a rose or flowers to make an impression and get her attention."
Continues...
"On a more extravagant scale, we have also received a request from a 'Sugar Daddy' to purchase a £5,000 breast enlargement for a lady on the site, someone he has never even met but has established a virtual connection with. Some other bizarre requests have been everything from a sex swing just like the one seen in an episode of Sex and the City, to delivering 10 live lobsters to a lady in Aberdeen, simply because the lady said she liked lobster! The gifts are ordered from the site by the 'Sugar Daddy' and sent to a female of his choice. The woman's address is never revealed and there is no obligation to meet. If users do decide to meet each other, that is purely their decision."
On top of simple gifts like flowers, perfume and chocolates that men can use to catch a ladies attention, sugardaddieworld.com also has more impressive gifts including designer 'It' bags, Christian Louboutin shoes, laptops, whatever is necessary to help boost an impression SDW can make it happen. The gifts are simply purchased online and sent, if a male wants to meet with a female, they make that arrangement between themselves under their own discretion.
It would appear there is plenty of appetite out there for this type of lifestyle and with the ever increasing exposure from glamour girls to us mere mortals, the term 'Sugar Daddy' will be used more and more and become increasingly accepted in our day to day lives.
So ladies it seems this lifestyle could all be within your grasp...
About sugardaddieworld.com
http://www.sugardaddieworld.com – Where the affluent meet the beautiful, a new type of dating website where gifts can be purchased online to aid and make that all important first impression and establish a connection. Sugardaddieworld.com has launched as the only Sugar Daddy site in the world to offer this unique gift sending facility. For safety and security SDW is a member's only site, registration is required and email addresses have to be verified before using all of the sites features.
For further information please contact Jane, CEO and Founder of sugardaddieworld.com via email info(at)sugardaddieworld(dot)com