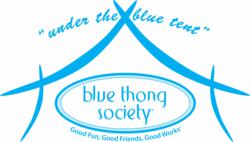 Join us for a special women's event
San Diego, CA (PRWEB) May 15, 2012
A very special event, "Under the Blue Tent", expected to attract women from all over New York City, will be held on May 19th at Public House 140 E 41st St. NY, NY 10017 from 5pm to 9pm. The event will include presentations from noted speakers and authors, social mixer, business networking, and exhibitors.
The Blue Thong Society holds regional and local chapter events several times each year. A local chapter event also held this month on May 16th will be in Staten Island. "BTS events are always open to the public", says Mary Jo Wallo, BTS Founder, "and they consistently include professional presentations from our sponsors on various subjects of interest to women". Ms Wallo continues, "And in June we are going back to where it all began, by holding an event in San Diego on June 30th at the San Diego Marriott, the site of our very first BTS event."
All events and registration details are listed on the BTS website at http://www.bluethongsociety.com.
About Blue Thong Society (BTS)
Since its inception in 2006, the BTS (bluethongsociety.com & facebook.com/itscooltobeblue ) has grown its unique international women's philanthropic organization to 300 chapters and 5,000+ women. These modern, fun, confident, professional and philanthropic women - connect socially, but with purpose and intent to make the world a better place. Chapters commit to a GoodWorks™ program twice a year and pledge that commitment to the BTS board and membership.