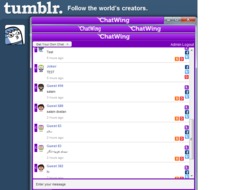 Jacksonville, FL (PRWEB) May 13, 2012
According to many bloggers worldwide, Tumblr is one of the most famous free-hosting blogs ever. This is because of the fact that Tumblr is very easy to use, unlike other blog sites with complicated navigation features. Since Tumblr has a large fan base, creators of the Chatwing free chat widget have begun tapping on it. They started introducing the widget to hundreds and thousands of Tumblr users all over the Internet.
Chatwing's main goal is to create a new chatting experience for everyone. This is possible by providing an avenue of communication that can connect everyone in chatrooms. During Chatwing's first version release, it has already gathered enough sign-ups because of its easy navigation and setup. As a bonus, Chatwing users can also log in with their Facebook accounts. This Facebook integration has been useful for Tumblr bloggers who are looking for ways on how to expand their social horizons without spending a buck.
Chatwing also empowers website chat by more than 100%. Its developers believe that website chat is more fun and easy compared to other modes where complex commands and downloading are needed. Inactive Tumblr bloggers can also get their gig back with the help of Chatwing. Because the shout box transforms the blog into an active chatting lounge, it helps raise online presence. A blog with a moderate online presence is on the path of fame and popularity. It has been observed that blogs with Chatwing installed have spikes of visibility in just about few days prior to installation.
People also loved Tumblr and Chatwing's combination. Both applications are easy to use and have a relaxing theme. Both of them also feature a high rate of customization. Chatwing's free chat box is now beginning to expand in dozens of online communities because many users are already seeing its sheer potential. Adding to that, people have been visiting Chatwing's Facebook page in order to get more updates on the chatrooms.
About Chatwing.com
Chat Wing delivers chatrooms for all web pages and blogs. It also lets anyone create free chatrooms on any website or blog. The Chatwing.com website offers users the ability to signup and create a customizable live chat box instantly with few details. Users can create a chat widget and have the ability to select the size, dimensions, and colors of the shout box. The ability to live chat with Facebook, Twitter or guest avatars is a unique feature which also includes social sharing features in real-time chatrooms. This free chat widget can be embedded in seconds with a few lines of html code. Chatwing provides free chatrooms available to any user.