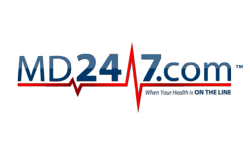 Visit http://www.md247.com.
Miami F;lorida (PRWEB) May 13, 2012
Supplementary health enhancing medical services available to patients using telemedicine technology has a reputation for being available only to elite. The term concierge is frequently dropped, secret under the table invitations are the rumor and ninety-nine percent of the public in the United States has no clue as to how to become a member of the supposed "talk to a doctor" hotline. The team behind the MD247 supplemental telemedicine program determined that it was uncomfortable with such a potentially life-changing product available to a small population. This desire caused the MD247 telemedicine team to launch a "first of its kind" online telemedicine shopping cart system
The innovative MD247 shopping cart feature can be accessed by any and all interested consumers by visiting the MD247 "30 Day Trial Membership" website at their earliest convenience. The MD247 website details traditional medical treatments which the MD247 telemedicine program provides program members discounts to, and it explains that telemedicine program members have the ability to acquire discounts on durable medical devices like hearing aids. Interested potential telemedicine program members wishing to acquire the one free month of membership will need to pay a onetime processing fee of $19.95. All MD247 telemedicine program participants have a virtual world of supplementary medical services available at their fingertips.
The MD247 telemedicine sales team also reminds all potential program participants that they are being provided a nearly $50.00 discount when using the unique MD247 telemedicine shopping cart function.
Largo Florida based MD247.COM (MD247; MD/247; MD 247; M.D.247; MD-247) provides an affordable telemedicine supplement to existing healthcare services. MD247.COM telemedicine program members have unlimited telephone access to a nationwide medical support team, all with just a single phone call to the MD247.COM telemedicine Talk to a Doctor/Talk to a Nurse Hotline. MD247.COM has a virtual platoon of registered nurses; board certified physicians and a support staff available to members for all non-emergency situations. More information about MD247.COM is available online at http://www.md247.com.