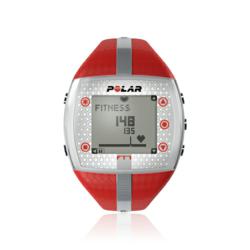 The resource tools that Polar provides like product training videos and live online chat are unsurpassed
Bozeman, MT (PRWEB) May 13, 2012
The Heart Rate Watch Company has named the Polar FT7 the best heart rate monitor watch for under $100, the second such time the watch has earned this honor.
"It's hard to deny that Polar has great heart rate technology and we find their calorie measurement to be the most accurate of any other heart rate monitor watch" says Rusty Squire, President of the Heart Rate Watch Company. He adds, "They are better integrated with more
gym equipment and have unique features like HeartTouch and their graphic zone display that really standout."
Polar designs their fitness heart rate monitor watch units in unique styles to fit both men and women while offering a level of functionality that is unsurpassed.
"The Polar FT7 has been our best selling item for two straight years" says Squire. He continues, "The resource tools that Polar provides like product training videos and live online chat are unsurpassed, where lesser products will often compromise."
The Polar HeartTouch feature allows users to change screens by simply moving the watch close to the chest strap which is very convenient on elliptical machines, treadmills and stair climbers. The graphic display tells users where they are in their zones visually and there is also an
audible alert for zones.
The Polar Wearlink chest strap is made of an extra comfortable heart sensing fabric that allows for a completely supple strap and the batteries on both the strap and the watch unit are user changeable.
"For those interested in quality basic heart rate training and calories this is a great watch" says Squire. He adds, "For outdoor activities you'll want the model with a white face display as the black face does not read as well in bright light conditions."
You can add an optional Flowlink device and use the Polar FT7 to download all of your data to Polar personal trainer software. You can also get an optional bike mount and use the FT7 for cycling as well.