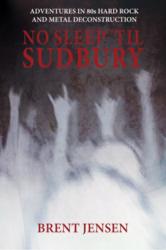 Toronto, ON (PRWEB) May 15, 2012
Bookstore shelves are loaded with titles offering the same stale retelling of rock history. In his new book No Sleep 'Til Sudbury, rock critic Brent Jensen takes a different tack by providing a no-holds-barred narrative look at what it was like growing up in the 80s as a hard rock and heavy metal fan in a small northern Ontario town.
The rock history is here and some academic treatise is included as well, but these aspects are uniquely woven together with personal experiences and biting commentary to make No Sleep 'Til Sudbury a highly entertaining observation of the power of musical nostalgia as a pop cultural force.
On Aerosmith - 'There is Old Aerosmith, and there is New Aerosmith. Old Aerosmith is that slutty Jezebel that would take you upstairs to deliver the groceries at the end of a sloppy late-night boozefest. New Aerosmith was the beautiful prom queen with great-smelling hair you were proud to bring home to Mom.'
On Motley Crue's Shout at the Devil album - 'The best thing about being young is that you're afforded the liberty of being stupid, and the best thing about Shout at the Devil is that it's a stupid record for stupid young people.'
On the difference between hard rock and heavy metal - 'Heavy metal is often made a malleable concept beyond its specific musical constitutions. Sammy Hagar proved this in 1979 by naming a song "Heavy Metal" that was really no heavier than anything in Foreigner's catalogue.'
On Whitesnake - 'We used to play a drinking game with Whitesnake's Slide It In cassette that involved taking a shot every time we heard David Coverdale sing the word 'love'. After side one finished it would be a challenge to get up and turn the tape over to do the other side.'
"All I can say is that this book nails it. Not only my favorite on the musical genre, but a really fun read as it's personalized in a smart, witty way. Reminds me of Klosterman's book, and just as good if not better." - Ian O'Malley, Air Personality Q1043 FM NYC
"Brent Jensen's No Sleep 'Til Sudbury is part memoir, part music history, part music criticism and completely entertaining." - Chad Bowar, About.com
"Huge book recommend: Brent Jensen's No Sleep 'Til Sudbury is for any fan who wants to hear smart analyses of these bands and albums, mixed with drinking stories and small town goofs. It's perfect. I can't put it down...very perceptive and dead-on." - Martin Popoff, author, music journalist, and critic
"If you're into books like Fargo Rock City by Chuck Klosterman, you should get a kick out of Jensen's book about what it was like growing up with 80s metal…." - Alan Cross, radio broadcaster and music journalist
Brent Jensen is a rock critic from Toronto who has written for a wide range of newspapers and pop culture webzines including Perfect Sound Forever and PopMatters.
No Sleep 'Til Sudbury is currently available on Amazon.com. For more information, visit http://www.nosleeptilsudbury.com
To request a review copy or arrange an interview or book signing, send an email to nosleeptilsudbury(at)yahoo(dot)ca or info(at)nosleeptilsudbury(dot)com, or call 1-905-425-0219.