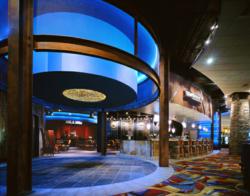 KWCUSA is excited to have Black Oak Casino as West Region venue
Cincinnati, OH (PRWEB) May 14, 2012
Karaoke World Championships USA announced Black Oak Casino will also host the West Regional karaoke competition. Black Oak Casino is currently hosting local and state competitions for KWCUSA and is excited to add the regional competition. The regional competition is scheduled for October 2nd, 3rd, and 4th. A meet and greet will be held on Tuesday evening October 2nd with the completion taking place on Wednesday and Thursday. Plans include the possible live streaming of the entire event.
Black Oak Casino is owned and operated by the Tuolumne Band of Me-Wuk Indians in Tuolumne, California. The Casino encompasses 164,770 square feet of gaming and entertainment options for the whole family, including 1200 slot machines, poker, 24 table games, a non-smoking gaming area, three restaurants, a gourmet coffee bar, three casino floor bars, a sports bar & grill, a state of the art bowling center, a live entertainment lounge, a players club, gift shop, and kids arcade. For more information regarding Black Oak Casino, please visit http://www.blackoakcasino.com
The Willow Creek Lounge features the best in local and National entertainment. Performers who have played here include Jason Aldean, Taylor Hicks, Luke Bryan, John Waite, Chad and Jeremy, Lee Brice, Justin Moore, Bo Bice, Leon Russell, Marshall Tucker Band, The Bellamy Brothers, Terry Clark, Pam Tillis, and many, many more national artists.
Game Pazzo will be the venue for the North Regional Championship and the remaining regional locations will be announced shortly. Tentative plans are for the East Regional to be in North Carolina and the South Regional to be in Texas.
KWCUSA will permit state competitions to be held as late as September, to be followed by Regional competitions in October. The national championship will be the last week in October or the first week in November. Local competitions are underway and new venues are encouraged to get started immediately. Once a local venue purchases license, they can hold competitions until the end of August.
About Karaoke World Championships USA (KWCUSA)
KWCUSA was the basis for 2011 ABC's Karaoke Battle USA.
KWCUSA mission is to organize, facilitate, and manage a viable, impartial competition for the entire United States.
KWCUSA goal is to include as many possible singers from all states and territories of the U.S.A. and provide this opportunity to all amateur performers to represent our country at the Karaoke World Championships.
KWCUSA objective is to identify, prepare, promote true U.S.A. karaoke champions utilizing all of our organizations resources efficiently and effectively observing all guidelines established by the Karaoke World Championship Organization and to provide the due diligence required to facilitate our mission in its entirety.
KWCUSA is the only organization in the United States affiliated with the Karaoke World Championship organization. KWCUSA champions exclusively represent the United States in the only international karaoke competition.