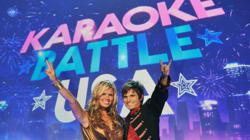 this will add to the already exciting national and world karaoke competition
Cincinnati, OH (PRWEB) May 15, 2012
Karaoke World Championships USA (KWCUSA) announced plans to start a separate competition for karaoke singers under 18. KWCUSA obtained permission last year to start an under 18 karaoke competition under the KWC and KWCUSA brand. The KWC world officials are currently in the exploration stages of extending the world competition to under 18.
Wendell Payne, President of KWCUSA, says, "KWCUSA has always wanted to extend the competition to under 18 and had planned this year to extend it to the 13 to 17 year age group. However after many calls and emails asking for ages 7 to 17 we are going to extend it to that entire group. We have to get feedback from current venues and other possible venues but those contacted so far are excited about the possibilities. We have seen many amazing voices at all ages over the years and this will add to the already exciting national and world karaoke competition."
KWCUSA will begin accepting venues for under 17 competitions and singer registrations on Wednesday May 16th. This will be a national competition and include two age groups, 7 to 12 and 13 to 17. This year the under 17 group will be a separate competition however KWCUSA anticipates some combining of existing venues and timetables. KWCUSA will begin contacts with existing venues this week and those existing venues can add the under 17 group at no additional license fee this year only.
KWCUSA is looking for ideas on names for the division that include KWCUSA so go to the web site and toss KWCUSA some ideas.
About Karaoke World Championships USA (KWCUSA)
KWCUSA was the basis for 2011 ABC's Karaoke Battle USA.
KWCUSA mission is to organize, facilitate, and manage a viable, impartial competition for the entire United States.
KWCUSA goal is to include as many possible singers from all states and territories of the U.S.A. and provide this opportunity to all amateur performers to represent our country at the Karaoke World Championships.
KWCUSA objective is to identify, prepare, promote true U.S.A. karaoke champions utilizing all of our organizations resources efficiently and effectively observing all guidelines established by the Karaoke World Championship Organization and to provide the due diligence required to facilitate our mission in its entirety.
KWCUSA is the only organization in the United States affiliated with the Karaoke World Championship organization. KWCUSA champions exclusively represent the United States in the only international karaoke competition.
The Karaoke World Championships (KWC) is the largest and most prestigious international karaoke competition in the world. This multicultural international music event without boundaries permeates the spirit of music, entertainment and fun